How to Grow Lemongrass : It is a special type of grass plant that is also used in the kitchen. This Citric herb is also used in many dishes like seafood and drinks like soups. You will also find this product in the local market. The best thing about this herb plant is that it can grow easily and you don't have to work hard. Below I have given both of the method on how to grow lemongrass at home.
How to Grow Lemongrass (Cymbopogon citratus)
There are 2 ways you can grow this grass plant, one is using its seeds (Here is the link check price in Amazon) and other method is requires plant stalks division which means you have to have a existing lemongrass plant.
If you have the plant then that's great but if you don't then I suggest buy it from local market or I have provided the link Check price on Amazon.
Here is way on how to grow lemongrass :
Growing lemongrass from Stalk
Stalks are the one of the main stems you use to propagate plants. In lemongrass You need to divide each of the stalks and separate it out and don't worry they will grow again.
Cut off the top of the stem so that only 5-7 inch bottom stem remains.
All the stalks you have got are to be put in a glass of water(2 inch). Keep in mind that you have to change the water every 2-3 days or else microbes can attack on this plant.
Root in this stalk will start in 6-8 days, as soon as the stalks start developing some roots, you can shift it to a good pot or can also grow it on the ground to make sure your soil is fertile.
You have to give it water properly for a few days so that it doesn't feel that its environment has changed, we have taken it out of the water and put it in the soil, so some days we have to give it better water.
The plant will grow big in some months, so you can also harvest it in 4-5 months.
Buy lemongrass plant
(Cymbopogon citratus)

: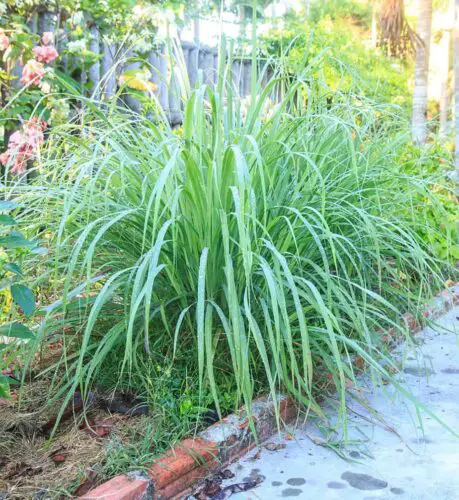 Lemongrass Plants
Growing lemongrass from Seeds

(Cymbopogon citratus)
Spring season is the best time to grow its seeds, because if you grow it in winter due to this mistake, it can be spoiled due to freezing.
Seeds should be sown on your ground or pot, making sure that the soil is well fertile.
And for location you can keep it in a full sun place or in your home garden.
Multiple seeds have a gap of 5-7 inches if you grow them. After that sprinkle water lightly on seeds and give it daily.
Seeds can take 3-4 weeks to grow, after which you can change its location if you have grown it indoors.
Most Searches
Lemongrass plants for Sale
(Cymbopogon citratus)
The sale of lemongrass plant is going on and you can check the price in amazon , they are giving 2 live lemongrass plants each having 4-7″ height comes with 3.5″ pots.
In addition to tell you why these are brought by people as they have mosquito repellent property according to a document of York County Virginia.
They have also mentioned – it has been used as a pesticide oil and it has good bug repellent properties.
How to grow lemongrass indoors
(Cymbopogon citratus)
People used to ask how to grow lemongrass indoor is to first take the plant stalks and put it in 3-4 inch glass container if your stalks are 9-12 inches long.
You need to put glass near the window so that it can get some sunlight as this plant is sun loving grass so it needs a minimum light requirement of 6 hours.
Daily Change water, Once roots start to appear move this stalk in a new container with well moist and fertile soil.
Location would be the same as before near the window , It will Thrive in indoors very well.
Harvesting can be done after 5-6 months when plant mature to a height , use sterilize cutting tool to cut one of the stalk and use it to cook or some other purpose.
Harvesting can encourage your plant to grow again, and this way your plant keep on growing for years.
Sometimes you should put them outdoors for proper warm sunlight, whenever multiple stalks grow people use to grow some indoors and maximum at outdoors as this requires much space to grow.
Winter is when they need extra care and that time you can take them indoors as it can protect them from cold outside weather.
Taking fresh green stalks is recommended as they will grow better than the dark brown one. 
---
Recommended Products

---
Also Read : Sago Palm – Care, Seeds, Problems, Propagation[Full Guide]
What does lemongrass smell like
According to Healthline, Lemongrass is used in personal care items , cooking, medicine and it was extracted from its stems and leaves. This extract has the same smell as a lemon which is generally citrus lemonish scent. Its oil which is sold in the market is strong and used in soaps also. 
In health medicine it can be used to resolve stomach related problems and if you have HIGH Blood pressure then it may help to lower it. It has made a name in aromatherapy which is connected with human problems like anxiety, stress and depression, this may help to overcome that. There are many health benefits of its essential oil and as you know any citrus fruit has vitamin C which is directly connected & boosts our immune system.
How to revive lemongrass
These plants need regular water if they are turning brown in color. Also, give them Proper plant food with high nitrogen.
Some of the fertilizer I can suggest you like Simple Lawn Solution's Fertilizer which has all the nutrients a plant needs & is high in nitrogen, here is the link you can check it on Amazon.
Also if its happened in winters that may be the reason for freezing it's not dead your plant will survive wait for spring and before that do some pruning to remove the brown leaves.
It will grow once the spring starts and gets warm direct sunlight.
Lemongrass Companion Plants
Some of the plants that will look good with lemongrass plants, I am sharing a list of them which look great today.
Some of these are also plants whose oil sprays are made so that mosquitos and pastes can be removed instead.
Here is the top lemongrass companion plants:
Mint

Basil

Marigold

Thyme

Cilantro

Lemon Verbena

Calendula

Geum

Dalea Purpurea

Coreopsis

Penstemon

Zinnia

Rudbeckia hirta

Petunia integrifolia

Lavatera trimestris

Salvia

African Daisy

Campanula carpatica

Pansy

Aster alpinus

Ipomopsis rubra

Lychnis chalcedonica

Cosmos

Liatris

Perovskia atriplicifolia

Eupatorium maculatum

Echinacea
If you have any question please use contact form to mail us.
Also Read : Calla Lily Care – Flower, Propagation, Prune, Bulbs [Full Guide]
Where to buy lemongrass plants
You can buy this grass plant from many offline stores and also it is available online you can check the article above for the link.
You can buy lemongrass and it can be directly deliver to your home.
Growing lemongrass in Florida
Florida comes under USDA zone 8 to 10 and Lemongrass can grow in zone 8b and 9 that means with the zone colder than 8b this plant may not survive as grass plants can easily be frozen.
That time you can take them indoors and use a frost blanket to prevent them from freezing.
Mostly it can survive in mainland Florida , but can't say about other locations, You have to use frost blankets.
lemongrass plants near me
People who are searching for lemongrass plants near me stores let me tell you can order online as well, it can be convenient and from trusted seller.
You can find the link in the article above, Enjoy your mosquito repellent plant.
lemongrass plant uses
---
---
According to US National Institutes of Health, These grass are used soups , teas and curries & also garnished in seafood dishes because of its citrus flavor.
Tropical countries like India , Malaysia , Thailand, Indonesia are some of the Southeast nations that use this herb.
Its oils were also used in Aromatherapy to improve the health of a person in both ways physically and emotionally.
It prevents pests and diseases on the plant as its oil is used as an insecticide which has Antimicrobial properties.
In Women , It was used to improve digestion and resolve problems like menstruation. Some other problems were used for nauseas, muscle cramps, headache, rheumatisms and spasms.
This plant acts as a flavoring agent in food items and also gives fragrance to it.
It is used as an Antioxidants , Antibacterial, Antiseptic, Antidiarrheal etc.
Note: If any website claims that a particular plant solves a medical problem or provides medicinal benefits , then as a user you should not believe in anything, make sure to read from government sources also and before trying any remedy ask for doctor or expert advice first. Lotus Magus advises you to be safe and healthy but with good information we ask you not only this website but any website to provide any information you have to recheck that information in government sources and in multiple websites.
Also See:
String of Dolphins – How to Grow, Care, Propagate, Repot [Full Guide]
String of Turtles Plant – Care,Propagate,Repot,Prune, Sale [Plant Guide]
Lotus Plant for Sale – Also Tips on How to Grow and Care [ Step by Step]
Water Lily Characteristics – Flower, Information, Seeds, Drawing(SALE)