If you want your house or garden to look greener then you should have one or two china doll plant. You can even see some leaves are very light green and some are dark green but this gives them a very bright greenish appearance. This plant will surely makes your house more attractive below more information.
China doll Plant popular, good looking houseplant came in the 1980s, Native to Asian Mountains. Evergreen china doll grown indoors and outdoors it produce purple flowers or white blooms as houseplant having glossy foliage and a non-poisonous plant. These houseplant grow faster acceptably and thrives in non direct light or part sun.
The Scientific name of China doll plant is Radermachera sinica, A indoor house plant & it comes from Bignoniaceous Family of Plants. Growing and Care for china doll plant is easy and this tree was first found in mountain areas of South east Asia Countries like Taiwan and China. China doll plant tree has similar height as trees with green, glamorous and appealing leaves grows opposite to each other. It has height of 26-30 feet straight upward. These are very popular plants worldwide and easily available in offline stores and online stores. Its glossy, bushy leaves can give a nice look on office space. It is such an evergreen plant that needs your little care and most people want it in their indoor environment to feel the natural environment. These plants are also known by the names emerald tree , serpent Tree , china doll.
This can grow about 28-30 m high with very thick canopy(Stem above soil). Indoor plants can grow about 3-6 feet high with indirect light conditions & it doesn't bloom indoors so better transfer it outdoors when they get mature. The Blooming season is early spring and that will end in late summer. They Like Good Drained Soil, Light moist with pH of 5.6 to 7.4. The flower color can be seen either yellow or white. The Growth Rate is Faster.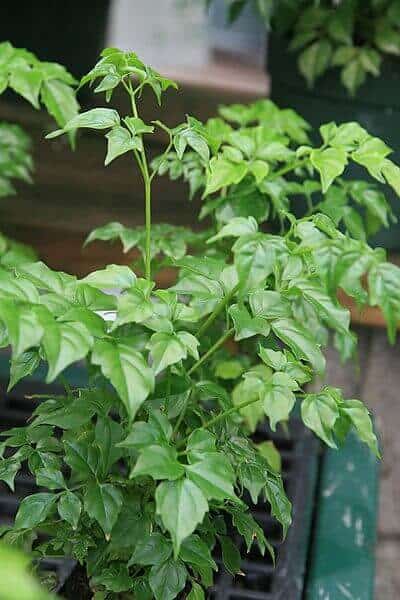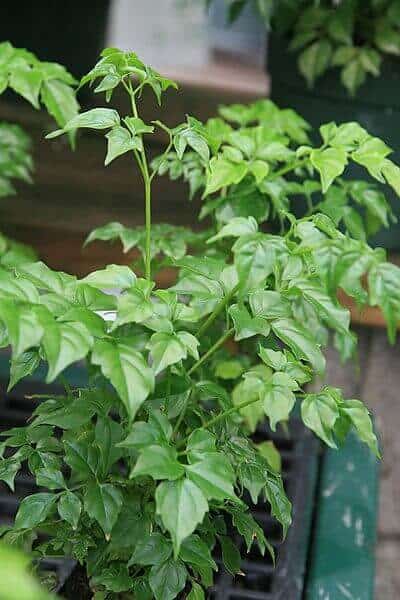 Here is the link to Buy China doll plant for sale :
China doll plant seeds : If you are searching for china doll seeds , Above I have given and Etsy links you can buy from there. Both the Ecom stores have different price. Please go to the link to find out. To grow Radermachera sinica make sure to put this in  a good environment where it gets partial or full light requirement. This amazing evergreen tree grows in both indoor and outdoor. Growing Radermachera sinica indoor can make it grow slow because of the minimum sunlight it receives , but outdoors it grows fast and big due to full sunlight. Indoor height growth is 3–4 inches and outdoor is about 20–30 feet tall which makes it not to call it as a plant but a Tree.
It is best to plant it outside in the garden or backyard from where it gets proper direct sunlight. Growth indoors is also strange and fussy. It grows outdoors better. The leaves of this plant fall often if it is not getting the light and moisture properly, when you are growing young plants. You have to take care of its light and moisture condition. check the below major aspects of caring this plant and how to solve any problem which exist on our china doll tree. There are various article I have written most of the leaf spots issues happen to my plant.
China doll plant Quick facts
| | |
| --- | --- |
| Scientific Name  | Radermachera sinica |
| Genus | Radermachera |
| Family | BIGNONIACEAE |
| Growing and Care | Easy to Moderate |
| Common Name | Serpent tree or Emerald tree, China doll plant ,china doll tree, tree china doll, radermachera plant, baby doll plant, china dolls, china doll flower |
| Propagating Technique | Stem Cutting |
| Light Requirement | Partial shade to Morning Sun |
| Flower Color | Yellow and White |
| Plant Type | Houseplant, Evergreen |
| Soil  Type | Low-medium Moist |
| Height | 3-6 ft |
| Flowering Season | Summer(Outdoors Mostly) |
| USDA Hardiness | Zone 10 to 12 |
| Plant Rating | 4.5 star |
| Price | $6-$50 |
China doll plant is rated 4,5 stars for its lovely green foliage and tree like structure. It is easy to grow outdoors to indoors no worries on growing this plant, it is hardy to zone 11 to 12. The green color in its leaves means nature, balance in ecosystem, growth, livelihood. 
China doll plant care include giving enough partial light to support green leaves. China doll tree requires 3–5 hours of daily Sunlight to thrive well outdoors. For Indoors, South Facing are best for Light requirement or using Artificial lamp light to fulfill china doll plant needs.  China doll plant can grow in room temperature between 65 to 79 F & it highly dislikes wet, soggy soil so keeping in moist soil could work for this plant. 
When China doll plant is young they requires more care so make sure they are moist most of the time as it will give them boost in leave growth. And have a good drain soil ,If your soil is not draining properly then mix perlite or sand in it so it gives your soil drainage a boost. Also Your soil should not be dry as it will cause water scarcity in the roots. And they will be spoiled after drying. Always check the soil whether it is dry or not. To check, you have to put your one finger on the soil surface to 1 inch below to see if the soil is wet , if the soil is wet.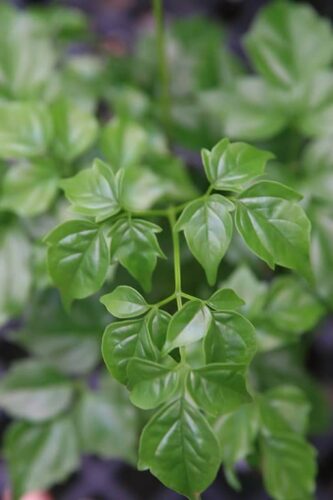 No need of water and if soil is dried then only add water. If you want to make its growth good, then you can do pruning. It is not necessary if you want to put it in the ground. For good care, it is important to keep it in the right temperature, which is up to 66-74° F, which is 19-23° C.
Here are some tips on china doll plant care:
1. Pot and Repotting
This plant does not like repotting. If you re-pot it again and again, you may end up shaking its root as well, that way the plant's hold on its root is spoiled. Due to which you will see the leaves are falling out of it.
If you need to put this in a bigger pot, then put it in more than 2 inches pot from previous pot size because its roots manage to grow 1-2 inches, after that you grow it outdoors to make it a bigger tree.
If you want it to be in its growth limit then at the time of repotting, you can also trim the roots by 0.5 inches and 1 inch.
Take care not to trim the whole root. Due to this, plant growth can be controlled if you grow it indoors.
2. Fertilizer
China doll plant needs fertilizer during the growing season, which starts from early spring and runs till summer. In this, you can add all purpose plant food fertilizer , which helps them to grow well. Because you want to see a nice big tree being formed from it, then every month there will be a need for fertilizer.
So take care to give a well balanced fertilizer and proper water too.
3. Soil
This plant needs good soil which can reach the water right in the corner of every pot edge. For this, the potting soil can be useful which is available in the market. If the water is not drained properly and soil remains wet then its root may rot.
You can check its pot hole for proper draining as well as its soil that dry's properly or not.
To fix the soil issue, you can put either sand or even perlite and blend it in your existing soil and before that take out wet 20% soil. That's it, Give balanced water when the soil appears to be drying.
4. Water
As you know we humans need daily water , same as Radermachera sinica needs daily water to grow stable. In winters it will not require much water, in summer it is necessary to sprinkle water daily.
To check water retention, you touch the top of the soil 1-2 inches, if the soil is dry then add water to it and if not then do not add water.
5. Pruning
Pruning is also necessary care in these plants so that its stem does not have a separate structure and does not become leggy. This is a condition in which another layer of stem comes out from the middle of the stem, due to which the plant has difficulty in becoming progressively tougher, it can cause plant death if it becomes excessive. Its leggy condition can be removed by pruning, so that its shape and size are correct for months. You can leave some leaves in each stem so that the root of this plant can reach them.
Its growth is controlled by pruning or trimming and if you do start seeing the bushes or may be dead leaves, then reduce it.
6. Temperature
Radermachera sinica likes warm temperature and the Growing Temperature it is compatible to 66°F to 74°F.
7. Humidity
These plants(Radermachera sinica) love humid climates. In Indoors, you can use Humidifier to keep this plant in a humid condition which it enjoys. And if you keep them indoors, then this plant does not easily get dry, so the need for regular water is not necessary.
8. Light
How much light do china dolls need? Give partial light to Radermachera sinica plant, You can keep it in indirect sunlight or partial sunlight and do not give direct sunlight. There may be a shortage of water in the plant in outdoor light in hot sunny days, so you have to provide regular water to fulfill plant needs.
And it is important to check the soil before giving water, whether it is already wet or not, if it is wet then do not give water and if it has dried then give water.
9. Pests 
Radermachera can be affected by some of the known pests like spider mites, scale or mealybug and with my experience if you put this plant with an infected plant the pests will easily move and infect your china doll tree. So make all your plants pests free or you can just use neem oil that is the best solution for many common houseplant pests.
Horticultural oil is another thing and insecticide is the last option that is powerful enough to get rid of any pests.
When We talk about disease in Radermachera plant , this plant has seen some leaf curling, falling off, sticky leaves, black leaves, wilting drooping are some of the problem exist and most happens because of fungal infection, overwatering and underwatering.
One should take note on all these caring needs so they can implement this on their china doll plant. I highly recommend pruning indoors, watering in both environments like indoor or outdoor. Use a good soil that doesn't come with bad smell and have aeration.
Know China Doll Plant Feng Shui Meaning – Is this Provide Positive Energy?
China doll plant Propagation
China doll plant propagation is not easy when we talk about its propagation. If you do not care properly, it does not grow. To propagate it, you first need to cut the stem & it should be cut from the bottom.
Sometimes you will see the new stem appear on the bottom having few leaves in it & developed roots. that cutting you can use.
Secondly if you cut from bottom make sure those stems are green and healthy leaves, do not cut a stem with pale or dead leaves.
Remember don't Cut the main stem or its root , you need to separate out a healthy new stem. it would be around 2-2.5 inches in height. Use rooting hormone and apply it on bottom stem cutting. Then Ready a Pot with fertile soil and water it. Wait for 1 min so the soil water drains and it gets moist. After that, put your new china doll cutting into the pot you are just ready. Put these in a shade area where it will only get indirect light.
Cover your plant with a transparent Polythene/plastic bag and make 3-4 holes in it so these plants can get air. This will basically fulfill the moisture requirement of the new plant. Keep checking it every 4-5 days until it develops roots. when roots develop change its location to a brighter area where it gets maximum indirect light and remove those polythene/plastic bags.
Directly you can check this article for more information on china doll plant propagation. You can also find the video on how to divide china doll plant from a larger tree to small babies. These baby plant can grow and become big just like the mother plant is today.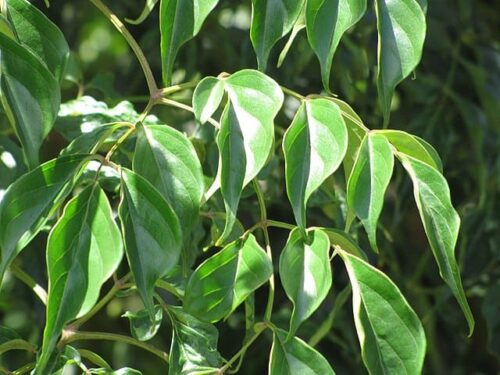 China doll plant Pruning
Are you Pruning china doll plant then first understand why it needed is because they can be leggy easily which risk the growth so you need to take good care of it either by pruning or by maintaining its growth. Leggy is a condition where the middle part between branches and leaves grows. And its very thin extra stem growth. It looks ugly and can make your plant reduce its growth eventually & in some condition plants may also die. Pruning can be done to prevent this leggy condition & secondly increase the daily intake of light to prevent this.
Pruning can be done in any season any time. Pruning can reshape your plant and can revive its growth. Trimming is easy in china doll plant & it doesn't spoil the plant but encourages its growth and solves plant leggy condition as well as removing ugliness. China doll plant pruning can be done if there are too many stems coming out of your plant.
then you can cut those stems. If any stem of this plant is seen as defective or appears pale or dry and about to die in  some days, then you can cut it too. The rest of the stem can be cut when it grows diagonally.
And can interfere in other stem growth. You can start pruning from those branches which are small and are connecting at the stem through big branches. In leggy condition, follow this procedure , it can make your plant live a longer life.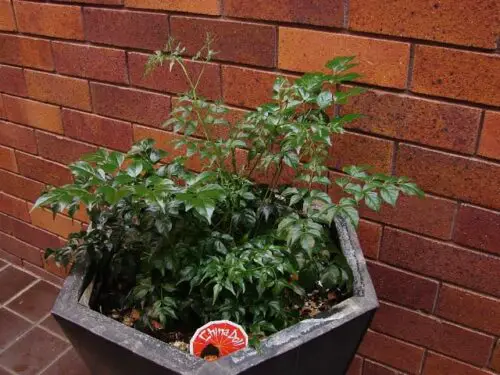 Directly you can check this information here check China Doll Plant Pruning. 
The main cause of concern is when you were growing these plants and in a year you will notice the leaf drops that's quite normally for our china tree so when you need to do is this takes time for plant to grow those leaves and these foliage uses all nutrients until the die back so i recommend cutting off some of the stems and free the plant from getting more burden of leaves. your plant will be more happy it was pruned. Before pruning make sure not to infect the plant from the already used pruners you first need to clean it and then trim off some of the longer and diseased leaves stems.
Pest & Diseases Problem
In china doll plant you can see pests like mealybug, Scale and most common one is spider mites which can make the plant lose its growth. When we talk about Spider mites they generally make spider webs that are very small , you can see these webs on the trunk(main stem) or between branches and leaves.
These can spoil your plant leaves easily. They make tiny eggs that can't be removed by just washing them. You need to spray some insecticidal soap to get rid of these pests. You can Purchase it from a nearby nursery or garden center and also it is available online you can purchase from there as well.
You should take care of this plant(Radermachera sinica) by washing it every month so that its dusty particles can be removed, China doll plant will feel healthy and make sure to keep the soil moist.
Leaves can be damaged if it gets dry.
Fungal Infection
This plant is easily vulnerable to fungal infections. Brown and black color spots are found on their leaves, it seems that the leaves have been burned. If it gets proper air circulation and good draining of water in soil then we can avoid this leaf spot issue in the plant. In the market, there are fungicides available to get rid of this disease. you can purchase it online and offline.
---
Here is ALL IN ONE Solution to get rid of disease and fungus problem –
Check the product Link: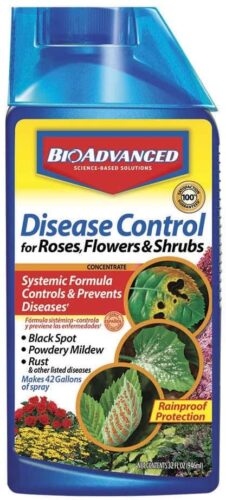 Suggested Pest and disease control liquid is useful in other plants as well for various other issues related to household plants. This spray can be used in flowering plants to shrubs to make sure they never come back to your china doll plant or die instantly there. This company fungal and disease liquid works best so I recommend this to all people.
Also SEE: Is Plumbago Poisonous to Humans – (With Full Details)
Best Fertilizer for China Doll plant
China doll plant requires good fertilizer that can be used on every 15-20th day of the month. This can be given when the plant is in the growing stage. Fertilizing is need of the plant whenever the soil loses nutrients as we pour water excessily sometimes this impact the lose of some nutrients in plant's soil and some are used by plant itself. But we can't be using same soil for every year it needs to be repotted in every 2-3 years. Repotting chances are when the pot itself is smaller now or you need too soggy soil or have a solid soil that we can't move, it just become stone. So below in gave 3 best fertilizers for our china doll tree or plant.
My favorite Best 3 fertilizer :
Above are the best selling one's and are very popular when it comes to plant fertilizer.
China doll plant toxic to cats
No, these plants are not toxic to cats, dogs humans or other animals and you can keep them comfortably indoors, animals such as dogs, cats also do not have any allergy from them, but make sure your child doesn't damage the plants while playing and  also it is included in the list of safe plants [1]. If by chance someone or your pet cat digest it make sure have stomach pain symptoms please call nearest poison control center. china doll plant is not toxic to cats , dogs and Humans but advice is do not put china doll near children's specially it can be harmful and cause dermatitis, If that happens immediately Call nearest Poison Control center for help, Its is in safe list of plant directory.
Is china doll plant poisonous to humans?
It is Not Poisonous to human and still it is not considered to be safe in presence of pets like cats ,dogs and children as it can still give problems related to body. Please contact near by hospital or care center for immediate solution.
Are China Doll plants poisonous to dogs?
No, china doll plant is not toxic to dogs and china doll is added in safe plant list so these plants generally not poisonous but still dogs can broke its pot when jumping over it. You can prevent dogs if you put these plant in specific room which gets indirect sunlight or growing your plant in more height which your dog can't reach. Mostly people train dogs to not spoil the pot, you can do that by watching training videos but not everyone can do that that is why i told you that use a to put your plant in a room that he/she goes very rare or place which is out of its reach.
China Doll Plant Benefits
There are many benefits of china doll plant including caring, toxicity, indoor and outdoors growing, able to clean air quality, provides fresh oxygen, can be useful for skin issues, leaf plays an important role and some other parts of plant also have its own use, Many People have asked Is China Doll a good indoor plant?
Here are the china doll plant benefits :
These plants are very easy to care & grow.
These are non toxic So even if you left your child or your pet alone with this plant. It can't harm your pets and child. One thing I must say you should keep an eye on your children as they can easily spoil stems of plants.
It is  termed as both outdoor and indoor growing plants.
As you know indoor plants have the ability to purify air quality and also it reduces the dust present in air So many people in the United States do keep these indoor house plants in their houses.
China doll tree is a air purifier can produce pure oxygen and these indoor plants are used to remove indoor bad air and dusts partials so you can get fresh air.
Radermachera sinica has medicinal use for resolving issues related to venomous snake bits and is also effective in skin problems, sterilization, and even heat clearing. Ancient time it was used in medicinal baths and the leaf is an important part which is useful[1]. Other parts such as branch , root , fruits are also used by them.
NOTE: Lotusmagus.com advice you to first ask a plant expert before using this plant for medicinal purpose.
Also SEE : Orange Star Plant Flower, Care, Propagation, Pruning[Detailed Guide]
China doll plant Bonsai
I did a lot of search and found nothing on bonsai , Asked some people who are plant experts if they hadn't even heard of china doll plant bonsai. So basically it was not made and no one tried. This is also not used for bonsai purpose.  and may be its stem is not suitable for making its bonsai. Their may be more reasons but one thing is true no bonsai has been reported on china plants.
China doll plant Air Purifier
After Lots of searching I didn't find any trusted source which claims it as an air purifying plant and this means this is not the one you are looking to purify indoor air. If In future any research update happens then i will update here. Snake plant and Cast Iron Plant Can Do Clean indoor air and remove toxins.
china doll plant feng shui
There are some plants that come in the list for example hedgehog aloe, rubber plant, Ficus , Money Tree, Pothos, Philodendron etc. These are unique and attractive plants that can give prosperity and wealth if anyone has them. China Doll plant feng shui is not in the list of feng Shui plants but there are other plants like Areca palm, Mother-in-Law's tongue, Bonsai trees, Boston Fern and Jade Plants in the list. According to the Feng Shui Principles, Plants can provide the healing energy of nature.
China doll plant shriveled leaves
Shriveled Leaves can happen if too much water is poured on the soil or she might be underwatered. This can also happen in Cold Climate But general Reason would be either over or under water issue. Keep Track on Soil as Heavy Water can havoc the china doll plant anyway.
China doll plant leaves curling
China doll plant leaves starts to curl up when it was too much bright light, Check the spot has excessive sun rays. Leaves generally curled to protect itself from loss of water and china doll plant does this so doesn't get much harm and it keeps growing. The most effective solution is to change the place and shift it to more low light area.
China doll Plant Leaves Turning Brown
I have written full informational article on the solution please check why China doll Plant Leaves Turning Brown.
Mealybugs on china doll
In China doll plants You can Identify These Mealy Bugs That Looks white in Color and these suck the green portion of leaves and stem and lead to spots on foliage, weak stem, leaf yellow then drop, Growth Imbalance.
Can a China doll plant live outside?
I have written full informational article on Can a China doll plant live outside?
China doll plant bunnings
Their is nothing about china doll plant bunnings.
China doll plant yellow leaves
Symptoms like overwatering when china doll plant leaves turn yellow and then it started dropping leaves. China doll is might not be happy in the new environment which it used to be in. First thing I want you to check is whether the soil is not too damp or soggy, as this will be the first thing creating a problem. They like moist soil but not that constant watery soil.
Second reason would be that china doll plants are under water for a long time. So water it.
Third reason is interesting and I am quoting answer of NEW Mexico State University that Indoor Plant do get affected with the smoke particles if someone in your family do smoke and what happens is those tiny particles can cover the leaf pores that leaves use to do photosynthesis means if that happens they will make less food means it directly affect the plant growth. 
Most of the websites that are claiming that china doll plants can be affected by smoking have no source to tell its users but basically I am tagging an educational website and yes china doll plant is an indoor plant it means it may get affected.
By the way Most probably your plant get a shock of environment change, If In some days It won't perform good , Repot again with some different soil type and provide it water and morning sunlight for 2 hours.
FAQ's
Can you trim a China doll plant?
Yes, Trimming china doll plant can be done anytime you want to cut the stems or branches that are dead or dry at the time of trimming. Also, to give a good look, you can also trim according to your needs. While trimming a lot of Gardeners cut the stem which has been growing by the wrong side. Fresh stems are formed by trimming. And this is a good step for the growth of the plant.
Why is my china doll dying?
In these plants, you have to keep in mind that to check the soil above whether it is dry or not, only water has to be added, if you put water in excess you may be rotting the root. Light and repotting is also one of the reasons why your plant is not able to survive & dies.
Why are leaves falling off my China doll plant?
These plants need moist soil that can drain the water very well and give water only when the top surface has dried up, due to the repotting, its leaf sometimes falls down. Moisture and water can be the 2 major reasons.
Why does my china doll plant have poles in its leaves?
This may be the cause of pests so better apply pesticide or use organic neem oil that is used to get rid of all pest conditions. If it got a fungus infection , you can use fungicide.
Is China Doll an indoor plant?
Yes China doll plant is good indoor plant, by doing pruning and choosing a right location for them is perfect for them to survive for years. Yes and they do make you remember about the outside trees as they quite look it similar. With Lots of leaves growing every season it tells you about life that is flowing its normal flow. Indoors growing can be tricky but once you train yourself it is smooth process and you definitely enjoy the caring of china doll plant.
China doll tree root system
If you are curious about the china doll plant root system then let me tell you it doesn't have invasive root system that can be harmful to your garden so it won't cause any issues. Moreover it may search for water if you didn't timely water it and leave it for days to dry.
Even in dry spells you should take good care for this plant. Many plants, the same as our Radermachera sinica, have invasive roots but plants do this to search for water in case of china doll plants.
How often should you water a China doll plant?
China doll plants is watered according to the present needs like once in 5 days or 7 but when they need water you should give them. Don't pour too much water that causes root rot or fungal infection. The best way to check whether they need water or not is to check the topsoil if it's dry and give them another check the next day. If you live in a high temperature climate then you have to give them water regularly to make sure they don't lose leaves or don't get any leaf issues.
When should I repot my China doll?
In case of root bound you should repot china doll plant, be sure to use a one or 2 inch pot bigger pot size this time and you are good to go for repotting. Using a Well drained soil is useful and I myself cut the roots if they are bundled or look bulky and this is done to limit the china doll plant size. For care, Cutting the leaves or stem will also make them disease free from any future leafy problem.
How do you plant china doll seeds?
China doll Seeds can be sown directly into the soil, use a fertile potting mix and cover the top using a plastic bag to make sure the plant gets all the humidity it needs to germinate seeds. Keep the seed pot in indirect sun and regularly pour water to make sure it is moist. Don't jump into too much water in a china doll plant. Growing china seeds is easy as it looks like a serpent tree.
How do you revive a China doll plant?
China doll plant is revived by applying various fix and if you determine the exact problem it is facing then it can be resolved. Like sometimes its roots get rot because of overwatering , underwater. Pest problem, bug infestation & the most common problem is Too much watering so be careful with that otherwise there is a massive leaf fall. All problems may solved with the right solution.
I will write an in-depth article on this on how to revive a china doll plant successfully just by following and noticing down some of the basic rules of growing plants.
What does China doll plant look like?
China doll plant looks like appealing, enchanting, beauteous tree that has lots of green leaves each having leaflets meaning multiple leaves join to make a single leaf. This plant is a houseplant thrives best in indoors and its bulk leaves are dense, packed, rigid in looks.
China doll tree flowers Meaning?
If you have this plant you have probably known that they have white color flowers and what this color shows is a ray of positivity or purity, goodness and faith, possibility and even spirituality. This is what china doll plant symbolisms.
Does a China doll plant flower?
China doll plant white color flowers often grow in this plant, which you will only see the flower blooms when you grow them outdoors. Its flower blooms grow only in certain conditions. You will only see its green leaves at maximum time. It produces large white flowers that are very beautiful to look at.
Conclusion
It is amazing , Fast growing evergreen plant and doesn't demand sunlight as it lives mostly in indirect light ,even though it doesn't harm your pets and also it is not poisonous to us humans. It is for for home décor, it looks amazing and gives nature vibes.
Other Posts
Black Eyed Susan Vine – 7 Tips to Grow, Care, propagate, Prune [Guide]
Blue Atlas Cedar – How to grow and care (Cedrus Atlantica) – 8 Tips
Pygmy date palm – How to Grow (Phoenix roebelenii) – Caring Guide
Purple Passion Plant – Care, Grow , Propagate, Benefits, Seeds Sale