If you are searching for flowers that start with U, before that let me tell you flowers are the symbol of love, admiration, respect, and care. They have become an important part of human life. Flowers serve as the perfect gifts for special occasions. Some blooms represent happiness and celebrations, while others symbolize grief.
There are more than 400,000 types of flowering plants in the world. Therefore, you can expect many to start with the same letter as your name.
This detailed guide will cover 25 flowers that start with U. You will find everything you need to know with the name of each bloom. Let's dig in!
A Guide to 26 Flowers That Start With U:
1 . Ulex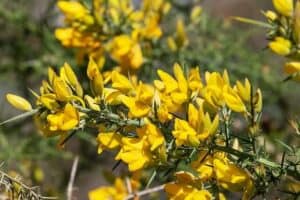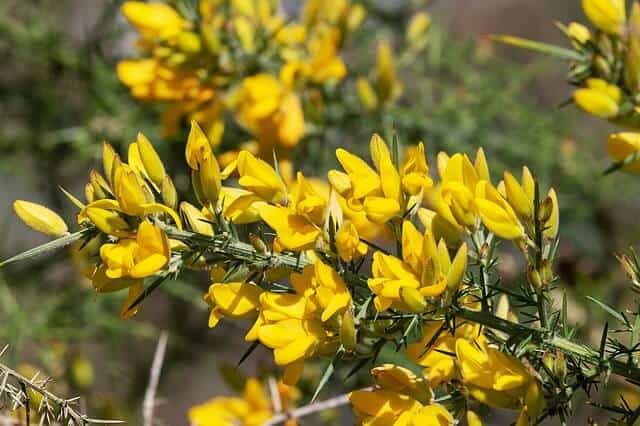 As an Amazon Associate we earn from qualifying purchases.
The botanical name of Ulex is Ulexeuropaeus. It belongs to the Perennial plant class and blooms all year. Ulex is native to the Irish landscape. Widely known as Common Gorse, the bloom requires full sun and slightly dry soil.
It is best known for its vibrant yellow color with a size up to 4 meters (16 feet). Ulex can survive up to 30 years, with 5° F lowest temperature. It is most commonly used for making salads and tea.
2 . Ugly Fruit Flower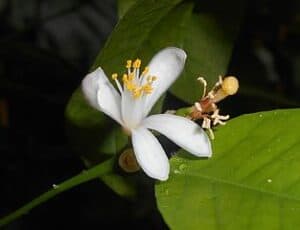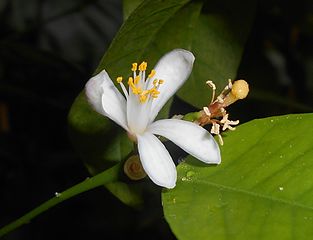 Do not be fooled by its name because The Ugly Fruit Flower is found in a beautiful white color. Its scientific names are Citrus Reticulata and Citrus Paradisi. From the Seasonal plant class, this flower blooms from September to December.
You will find this flower on Jamaican tangelo trees. These trees are a hybrid between tangerines and grapefruit. The Ugly Fruit Flower requires water regularly from 1 to 3 times a week, depending on the soil. It requires full sun to bloom and can survive at 20°F lowest temperature.
3 . Umbrella Magnolia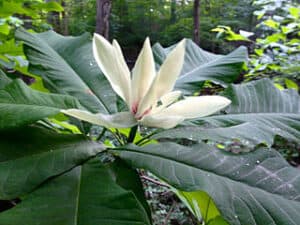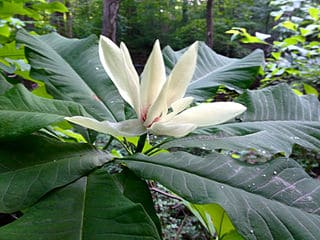 Umbrella Magnolias are known as Magnolia Tripetala as their botanical name. They also belong to the Perennial plant class. As the name suggests, these flowers are in an open umbrella shape. Their large leaves distinguish them from other flowers as well.
An umbrella magnolia can be found in several colors, including tan, white, and cream. It can grow up to 12 meters (40 feet). The flower can survive both full and partial shade conditions with the lowest temperature of -20°F.
4 . Umbrella Plant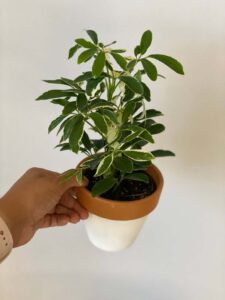 Umbrella plants are some of the most beautiful on this long list. Their scientific name is DarmeraPeltata. They have a gorgeous color combination of pink and white. An umbrella plant requires a partial or full shade. It needs wet or moist soil to thrive at a minimum temperature of -20°F.
A DarmeraPeltata can grow only up to 1.5 meters, making them one of the smaller ones on this list as well. However, the plant is quite tall and requires a lot of space to grow.
5 . Uva Ursi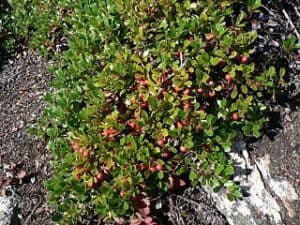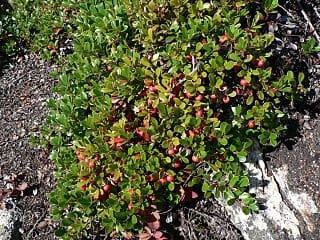 UvaUrsi is another pink and white-colored plant that requires moist soil. The flower requires partial or full sun to survive. It is known as Arctostaphylosuva-ursi as its botanical name. The bloom can survive a temperature as low as -50°F.
UvaUrsi is most popular for growing red berries. They grow when the flowers on the shrub die. The flower's bell shape distinguishes it from other similar colored plants.
A UvaUrsi also makes an amazing present as it symbolizes strength.
6 . Ursinia Speciosa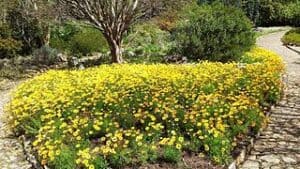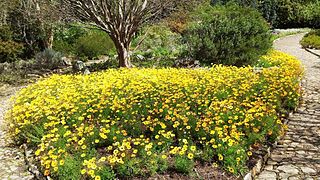 Commonly known as Ursinia, it belongs to the Annual plant class. This flower can bloom in spring, summer, and winter. Ursinia is easily one of the most beautiful flowers that start with U. Found in yellow and orange colors, it can survive a temperature as low as 30°F.
UrsiniaSpeciosa requires full sun and moist soil to thrive. Given the best conditions, it can grow up to 30-45 centimeters. It is one of the most beloved blooms for gardeners as it elevates the appearance of the entire garden.
7 . Ursinia Nana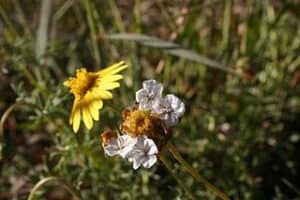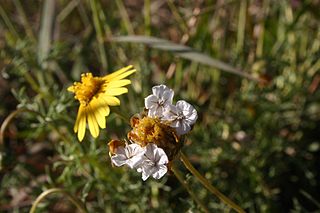 It is one of the rare flowers that have the same scientific name as the common name. However, Ursinia Nana is also known as Yellow Margaret. As you can guess from the name, it is found in gorgeous bright yellow shades.
A Yellow Margaret requires almost the same conditions as Ursinia Speciosa. These include the minimum temperature of 30°F, moist soil, and full sun. However, it does not grow more than 20 centimeters. It can also be a great addition to your garden as it shines gracefully among other flowers.
8 . Ursinia Chrysanthemoides
Ursinia Chrysanthemoides is another addition to the great Ursinia family. Like all other flowers of this family, it possesses a yellow color. However, it is also found in orange shades that distinguish it from other Ursinia flowers.
It has edgier petals, while other Ursinia blooms have rounded. It can survive at the lowest temperature of 20°F. Ursinia Chrysanthemoides are commonly called Coral Ursinia. These flowers can grow up to 1 meter at most with full sun exposure and moist soil.
9 . Ursinia Glanduliflora
Ursinia Calendula flora is popularly known as a Parachute Daisy. That's mainly because of its unique shape. It has rounded petals with considerable gaps in between. They are found in various parts of the world in several shades. These include orange, yellow, brown, and red.
A Ursinia Calendula flora grows up to 35 centimeters under the best conditions. It needs full sun and moist soil like other Ursinia family plants. The bloom can thrive at temperatures as low as 30°F.
10 . Ursinia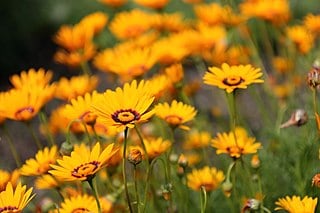 Ursinia Anthemoides, also known as Mountain Marigold, are the most popular in the entire family. It can grow as tall as 50 centimeters with moist soil and full sun exposure. The rounded petals and a unique orange/copper combination make it a standout in the Ursinia family.
It is found in various locations throughout the globe. Ursinia can survive at the lowest temperature of 20°F. The thin plant beneath adds more elegance to Ursinia, making it MUST have bloomed in your garden.
11 . Urn Plant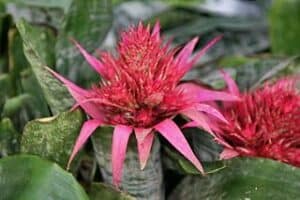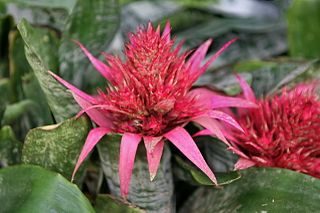 An urn plant is one of the rarest and most interesting plants beginning with U. This unique flower is native to the temperate areas of Brazil. It has also received the "Royal Horticultural Society's Award of Garden Merit."
This one-of-a-kind flower blooms in full winter for three months. It belongs to the Succulent plant class, and its botanical name is Aechmeafasciata. It can thrive with dappled or partial sunshade and slightly dry soil. An urn plant is found in burgundy, purple, lavender, pink, and red colors.
12 . Upright Virgin's Bower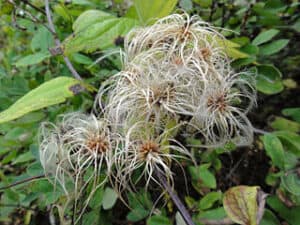 Commonly referred to as Virgin's Bower, this plant has a delicate smell. It goes by the botanical name of Clematis virginiana. The bloom resembles stars and grows only in late summer. It is a great addition to your garden as it has an aesthetically-pleasing appearance as well as a sweet aroma.
However, these can cause ulcers and mouth pain if eaten. These flowers can also irritate your skin. They can grow up to 6 meters with a minimum temperature of -10°F.
13 . Uinta Basin Hookless Cactus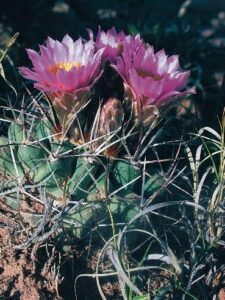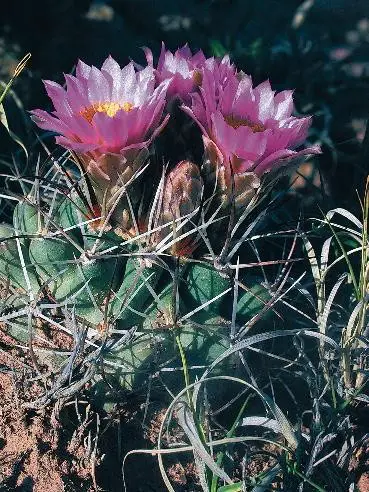 Also known as Uinta Cactus, it is one of the rarest flowers that begin with U. It is only found in Utah in the United States. However, it can be grown outside of its native climate. The bloom is drought tolerant and only requires full sun exposure.
Uinta Cactus can grow up to 15 centimeters in pink or purple color. It also goes by the name Colorado Hookless Cactus. But, its botanical name is Sclerocactus Wetlandicus.
14 . Ulex Gallii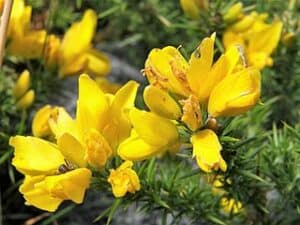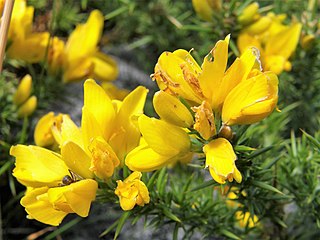 Ulex Gallii belongs to the long Ulex family. It is commonly known as Western Gorse. They are similar to Ulex Europaeus. However, they are smaller in size and can grow up to 1.5 meters at most.
That's to say, if you provide optimal conditions, including slightly dry soil and full sun exposure. They are found in yellow colors at the lowest temperatures of 5°F.
15 . Ulex Minor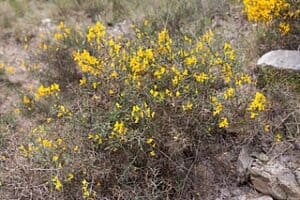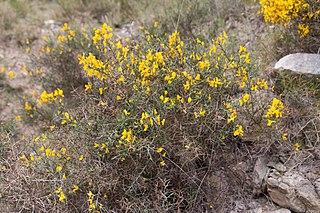 Ulex Minor is known as Dwarf Gorse. That's mainly due to their smaller size as compared to other Ulex family plants. They can only grow as big as 1 meter if provided with dry soil and full sun.
Like other Ulex blooms, they are also found in yellow color in temperatures as low as 5°F. Although they are considered wildflowers, you can add them to your garden to uplift its aura.
16 . Umbrella Sedge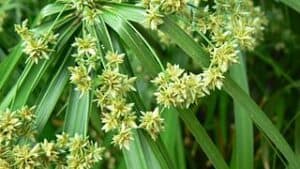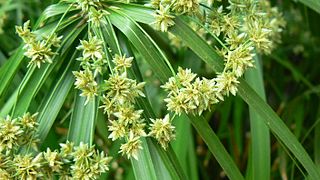 Umbrella sedges are known as Cyperusalternifolius as their botanical name. These flowers like the full and partial sun with standing water. They can grow in tan, yellow, and green colors. The maximum size of an umbrella sedge can extend up to 60 centimeters (2 feet).
An umbrella sedge grows in humidity. You can also grow them in your home garden with a humidifier.
17 . Unicorn Plant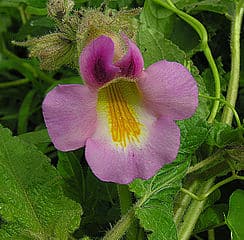 The flower's name does not have anything to do with a unicorn. Its bright purple, white, yellow, and pink colors resemble the fictional animal. It also has a much darker name, Devil's Claw.
However, its scientific name is Proboscidea Parviflora. The special thing about the Unicorn plant is that it hooks animal hair to disperse its seeds.
18 . Upright Prairie Coneflower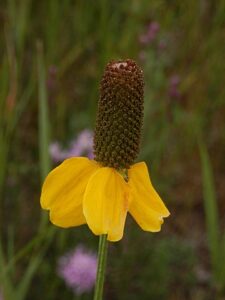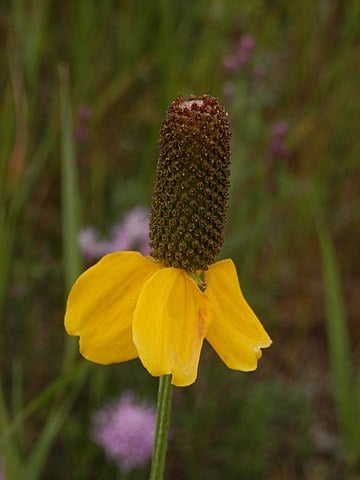 An Upright Prairie Coneflower is known as RatibidaColumnifera in botanical gardens. It is one of the drought-tolerant flowers that start with U. It can grow as long as 30-90 centimeters with partial to full sunshade.
Found in brown, yellow, copper, and golden colors, it can thrive at the lowest temperature of -30°F.
19 . Upright Clematis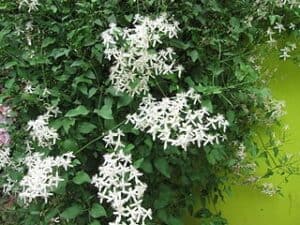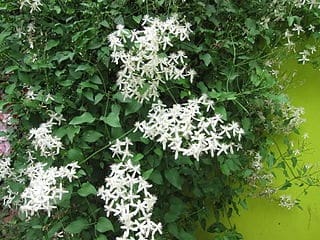 If you want to have the ethereal effect in your garden, there's no better option than Upright Clematis. Scientifically known as Clematis Recta, this bloom requires moist soil and full or partial sun to grow.
It grows in beautiful white colors at approximately 1.8 meters high. However, Clematis is very toxic to the skin and can lead to ulcers if eaten.
20 . Urceolina Amzonica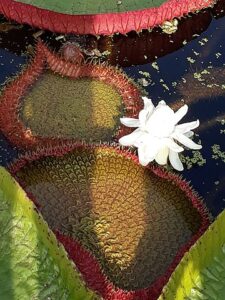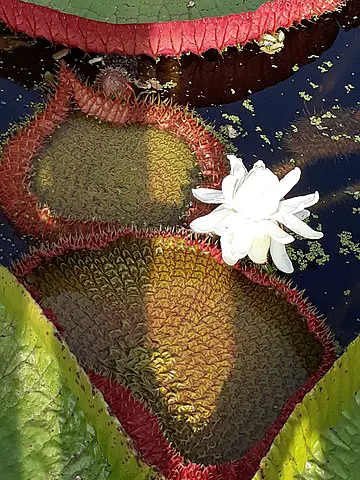 Trouble pronouncing it? Well, don't worry as it is only the scientific name. The bloom is popular as Lily. It is a white-colored follower that can grow as high as 45 – 60 centimeters. You need partial or dappled sunlight to grow this plant.
Lily requires moist soil and a temperature higher than 30°F.
21 . Utricularia Delphiniums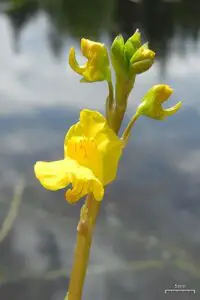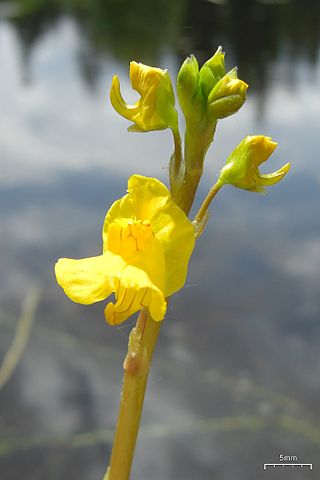 Utricularia Delphiniums is the botanical name of the flower. It is widely known as Bladderwort. The bloom is one of the thinnest flowers that begin with U.
Bladderwort is found submerged in water. It is more popular in purple and pink colors but also in blue shades. With full sun exposure, these flowers can grow as big as 30 – 91 centimeters.
22 . Utricularia Vulgaris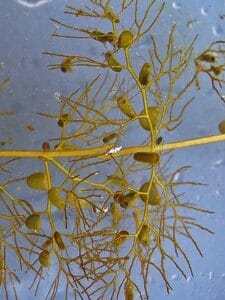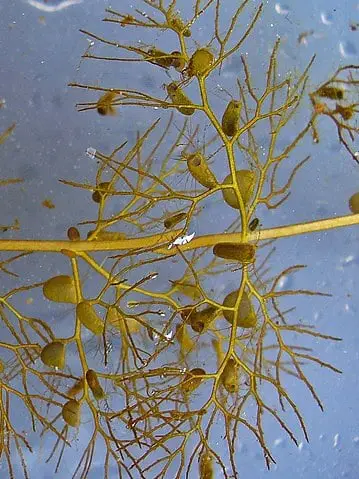 The Utricularia Vulgaris is another popular flower that requires full sun to grow. These blooms are submerged in water and can grow as long as 91 centimeters. They are usually found in yellow, gold, purple, and lavender shades.
They possess similar characteristics to Utricularia Delphiniums, including the lowest temperature of -30°F.
23 . Uvularia Grandiflora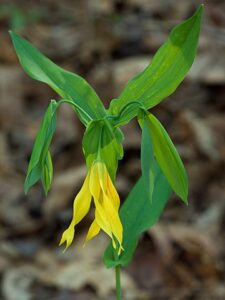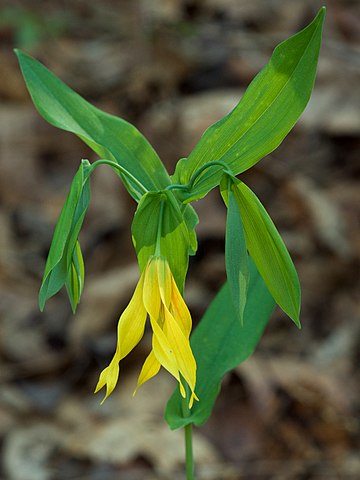 Unfortunately, there's no common name for Uvularia Grandiflora. It blooms only for two weeks in April or May. With partial or deep shade, these flowers can grow up to 60 centimeters. Uvularia Grandiflora is found in gold or yellow colors.
[The article/content is first published by Lotusmagus.com website.
Lotusmagus is a website about plants and flowers by Amelia Clark. Copyright Marked]
You need moist soil to grow these flowers and a temperature above -30°F.
24 . Utah Agave Flower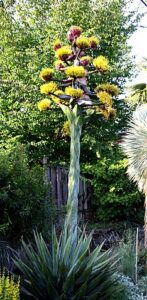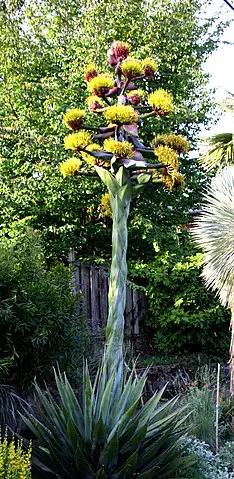 As the name suggests, it originates from Utah. It is one of the slowest growing flowers beginning with U. It goes by the scientific name Agave utahensis. These flowers are found in yellow and green colors.
It is a drought-tolerant flower that can grow as long as 3.6 meters. The bloom requires a minimum temperature of -10°F.
25 . Urginea Maritima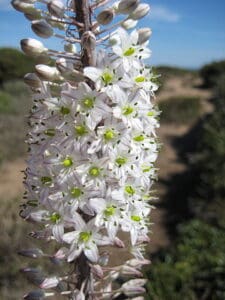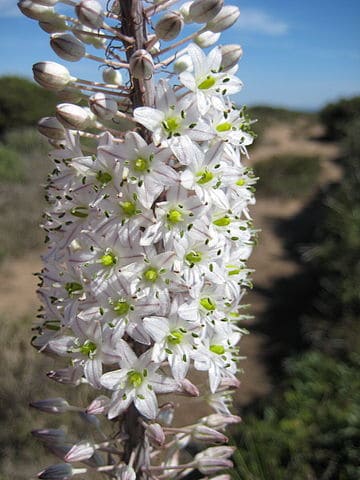 The chances are that you may know this flower by its common name Squill. It also has another scientific name DrimiaMaritima. The bloom grows at a temperature higher than 10°F and in moist soil.
It is found in various colors, including white, red, burgundy, lavender, and purple. This flower can grow surprisingly big, upto 2.1 meters.
26 . Umbrella papyrus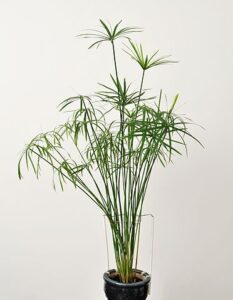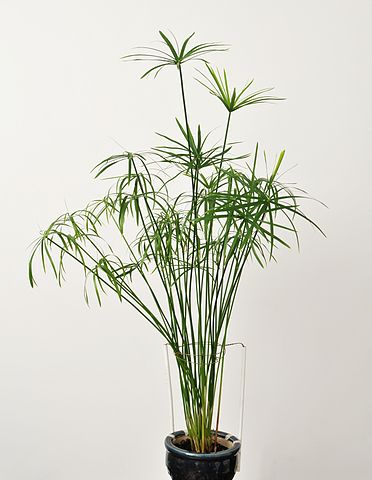 Scientific name: Cyperus alternifolius

Family: Cyperaceae

Watering : Regular

Light : partial to full sun

Propagation : Seeds, Stem Cuttings

Growth Rate : Fast to moderate
Conclusion
And, that is all you need to know about the 25 flowers that start with U. You can grow most of these at your home to improve your garden. As each bloom has a unique look and characteristics, they also symbolize something different. From these 25, you will surely find many blooms that fit your personality. 
Flowers that Start with u and x
[ Copright Notice: The content is first published in lotusmagus.com website, if you are seeing this article in other website then it has been copied fully. ]
Flowers that start with U and X is Ulex as its ending with x letter. The ulex shrub is belongs to african region and there are similar types of it including ulex-europaeus, ulex-galllii. It has golden colored flowers and one great thing about its bloom is that it will flourish the whole year.
Plants that Start with u
plants that Start with u includes Uinta-Cactus, umbrella arum, UMBRELLA PINE, Uinta Basin hookless cactus, Upright clematis, Umbrella bamboo, Urn Plant (Aechmea fasciata), Upas (aka Antiaris toxicaria), Ursinia, Uvularia, Ulat kambal (aka Abroma augustum),  umbelliferous plant, Ulex, Umbrella sedge, Umbrella Magnolia and so on. These plants are well tolerable to different climate conditions. They are easily grown with low maintenance.
Desert plants that Start with u
Desert plants that Start with u are Unicorn Plant and Upright Prairie Coneflower. There are not many plants that can grow in deserts which have high temperatures and no water. With the letter u very less plants are there to find. If i get more names then here i will update it.
Do ZZ plants bloom flowers? (Rare, Poisonous, Smell)