We've stepped into 2023, which means we're taking a fresh look at everything, including our home interiors. You see, that rug you bought or the vase on your shelf might not match your current interior style or the vibe you're going for this year. But don't worry, we've got you covered with some design ideas for the home of 2023 – and guess what? Sustainability is at the heart of it all.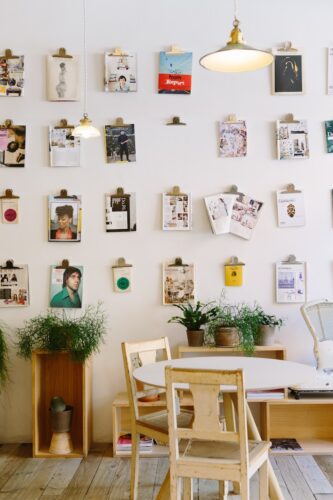 #1 Sustainable materials
The interior industry is striving for sustainability, encouraging designers and consumers to create designs that combat global waste. Rather than contributing to waste, they are seeking environmentally friendly materials like rattan, bamboo, cane, linen, cork, and aluminum. Cork and aluminum will gain popularity in households beyond 2023. Cork is an approachable material with a natural brown color, creating a relaxed and earthy ambiance. Its textured and rugged bark appearance adds warmth and coziness. Aluminum, on the other hand, is highly recyclable and considered one of the most eco-friendly metals for home use.
#2 Wavy stripes
From Bethan Gray's iconic Inky Dhow designs and Henry Holland Studio's striped ceramics to House Of Hackney's Songs of the Sea collection, wavy stripes are gaining popularity in the design world. Matilda Martin explains that there's a good reason behind it – as the significance of home as a place of comfort, sanctuary, and protection grows, people are gravitating towards colors, patterns, materials, and shapes that offer emotional refuge. Charlotte Cropper, Lick's international color consultant, adds that waves are often associated with water and the ocean, which can evoke feelings of calm and relaxation.
#3 Layered lighting
Lighting is the second most important design element in your home, right after color. Moreover, as lighting can take on various forms, we are witnessing a rise in layering.
As an Amazon Associate we earn from qualifying purchases.
Adding layers to your lighting creates a cozy and warm ambiance in a space. Plus, it provides an excellent opportunity to have fun with diverse lighting designs. You can layer your lighting by incorporating illuminated pockets on the walls, using floor lamps, and hanging oversized pendants from the ceiling to create a touch of drama.
If you can't find the perfect lighting solution, try stepping out of your familiar zone. VeePN will help you with this. It allows you to be inspired by movies and series on BBC iPlayer or other streaming platforms. It will also be useful when looking for a team for new house decoration or buying items that fit perfectly into the house's interior ideas.
#4 Hand-formed textures
Just like the enduring interest in sustainability, the focus on handmade artisan goods reflects a shift towards design with a global impact. According to most of the designers 1stDibs interviewed, they have plans to source work from talented artisans this year. "Hand-formed textures play a crucial role in celebrating artisanal craftsmanship," Riberti mentions, highlighting materials like clay. As a result, she anticipates that papier-mâché will gain much more prominence. "It is lightweight, reasonably priced, and requires minimal energy consumption," Riberti explains. "Moreover, it has an engaging tactile quality. This is why we are witnessing both high-street retailers and luxury brands utilizing it in lighting and decor—such as vases, mirror frames, and table lamps—and even in furniture, like the stunning work of Polina Miliou."
#5 Nature-inspired wallpaper
Sydney Markus, an interior designer at Anthony Wilder Design/Build, is currently working on multiple projects that feature wallpaper with nature-themed designs such as birds, flowers, vines, and leaves. According to Markus, incorporating such wallpaper adds a soothing touch and creates an oasis-like atmosphere, reminiscent of a vacation getaway. Markus particularly enjoys using it in powder rooms, bedrooms, and offices. Another significant design trend, as Markus points out, is the use of nature-inspired murals.
#6 Mixing old and new
Due to the persistent supply-chain challenges observed in recent years, Swabb mentions that she is gravitating towards antique and vintage discoveries. She skillfully combines these with newer items she can acquire. As for the vintage component, Swabb suggests commencing with antique or vintage rugs, highlighting their superior quality, longevity, and rich visual appeal. Additionally, incorporating vintage pieces like vases, planters, side tables, trays, and lighting can exude a remarkable charm.
#7 TTYL, gray
According to Annie Elliott of Annie Elliot Design, it's time to move on from HGTV gray. Gray is no longer in style as we're leaning towards warmth these days. If you want to replace your existing gray with a more current neutral, Elliott recommends warm-hued whites, ivories, or camels. Alternatively, if you want to embrace the Dark Academia trend for 2023, you can ditch gray completely and opt for moody hues like navy, green, and aubergine. Pair these colors with finishes like plaid fabric or stained wood for a sophisticated look.
[The article/content is first published by Lotusmagus.com website.
Lotusmagus is a website about plants and flowers by Amelia Clark. Copyright Marked]
#8 Natural woodgrain cabinetry
According to interior designer Sara Swabb from Storie Collective, natural woodgrain can make a statement without appearing dated. Swabb suggests investing in real wood for cabinets instead of particle board or veneer, as it will result in a higher-quality final product without any faux-wood-paneled basement vibes.
#9 Limewash and plaster
[ Copright Notice: The content is first published in lotusmagus.com website, if you are seeing this article in other website then it has been copied fully. ]
According to Swabb, old-world materials such as plaster and limewash are currently experiencing a surge in popularity due to social media. If you're interested in giving this trend a try, she suggests starting in a smaller area like a bathroom or bedroom before committing to a larger space. Additionally, she recommends complementing the look with natural elements like marble or wood.
#10 Bouclé fabric
Bouclé is a delightful fabric that adds depth to any space," remarks Markus. She particularly enjoys using it on upholstered chairs and throw pillows. With its textured nature, it brings about a diverse aesthetic and becomes a striking focal point in an otherwise monochrome room. However, Markus cautions that it does not withstand heavy use, so it's better to avoid it in high-traffic areas.