Plumbago is a very beautiful bright evergreen shrub that grows in gardens , lawns, and various other landscapes. This one thrives in both full sun and shade and even it can tolerate most of the soil mix that is why it is called as a versatile plant for winters and also for summer. This is best for those who mainly live in colder climates areas. USDA hardiness zone is 5 to 9 and this can attack butterflies. It is easy to grow and even Deer don't come near this plant. Pot or ground both ways plumbago can grow. You may see it blooms for whole month and it can grow for a year if you put them in ground and if you use pot or container then it may live for more than 2 years. It is both perennial and annual flower plant and cuts the watering session in winters.
Is Plumbago poisonous to dogs? Plumbago Auriculata is poisonous and can cause serious disease called dermatitis that can affect a person's skin after contact and you may feel symptoms like Skin rash, irritation, blisters and redness according to UCANR and NCSU. It can affect dog, cat and other pets Result in skin irritation which is serious so stay away from thorns, sap, juice. Also more has been mentioned that leaves, fruits, stems, seeds, bark, flowers are some other toxic parts. Dermatitis is the 4th class toxicity present in plants. If you dog have eated it then call nearest pet center for help. Placing this plant far away where your pet don't go often will solve this problem but take care for your plant and pets at the same time.
Pruning can be done last week of winters that make it rejuvenate its natural growth. It was a success when it was cut and stored in a cool environment in winters and regrow again in summer. Plumbago has 3 colors white , pink and blue and all 3 are bright and shiny , they look stunning in a greener environment. These shrubs may get leggy which can be resolved by trimming its branches and stems.
Plumbago shrub is toxic and not just one part , its all parts if ingested can cause issues in stomach and it is not reported to be toxic to birds , cats, dogs , horse but we still believe that if human can get affected by a plant then animals can have double impact so make sure your pet don't roam around the plant. Solution would be Immediately wash the affected area or skin where you have contacted and use soap & water to clean it. If you still feel pain call the doctor and if it still persists go to the poison control center.
A variety called Plumbago Larpentiae is safe and non toxic to dogs , cats, and even horses according to the ASPCA and a growing and caring guide is the same for all the family plants.
Also Read : China Doll Plant – How to Care, Benefits, Propagation, Pests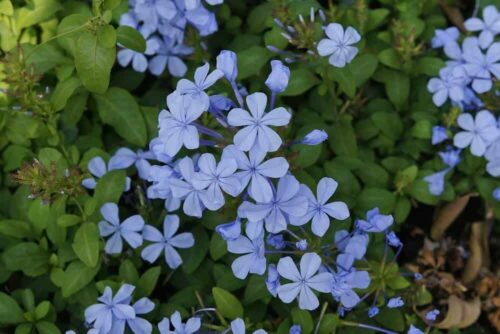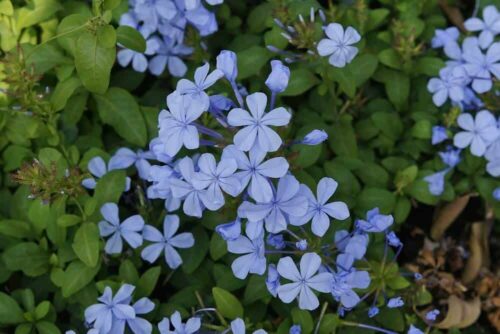 Plant Specification
| | |
| --- | --- |
| Family   | Plumbaginaceae |
| Scientific Name  | Plumbago auriculata |
| Common Name  | Cape leadwort |
| Plant Type   | Annual or Perennial  |
| Native  | South Africa |
| Bloom time   | All Season |
| Flower Color | Blue, White , Pink |
| USDA Hardiness Zone | 5-9 |
| Height  | 7-14 feet. |
| Width  | 7- 8 feet. |
| Growing Location  | Container, Patio, Garden etc. |
| Space  | 6-12 feet |
| Foliage color | green |
| Light | Full Sun – 5 or more and Shade : 2-5 hours. |
| Toxicity | Class 4  |
Plumbago flower is tabular in shape and has size around 1-3 inches long, it has 3-5 petals. Its leaves are quite small and green , and it is about 1 to 3 inch. It was grown in a rock garden and drought garden , and they manage to tolerate the soil and sunlight. Propagation can be done using seed. Soil needs to be good enough to drain water perfectly, also it should have sufficient holes in the container. Morning sunlight is good and can thrive without any leaf burn issue. You can grow them in shade where they can receive a minimum of 5 hours of sunlight. And if you are growing in a garden then it should get more than 6 hours of sunlight for faster growth.
Want to Buy ? Here is the Link to buy Plumbago Auriculata 
Also SEE : Gold Mop Cypress – How to Propagate, Pruning, Care [Step By Step]
---
What is plumbago used for?
plumbago is used as a medicine and pharmaceutical , traditional and veterinary use. Also it is a source for dye but as you know it can affect your skin and give rashes, blisters , serious irritation so we advise you not to use this or first ask an expert in plant medicine or an expert doctor.
---
Is a plumbago an annual or perennial?
These shrubs grown in colder climates areas may not survive and that's why it is called annual , but with warm climate plumbago can survive and grow then called perennial. In frost or cold climates it dies and when summer starts it regrows.
Also Read : Hawaiian Ti Plant – Where, When to Grow, Care, Prune, Propagate[Tips]
---
Is Plumbago an invasive plant?
This plant thrives from rhizomes and even spreads using it under the soil. Plumbago is termed as non invasive as it is a medium spreader and it doesn't spread too much. But  as every plant spreads , check if it doesn't go beyond the garden space.
---
Does plumbago need full sun?
Plumbago can easily grow in full sunlight and blooms all season. It can tolerate light for more than 6-10 hours easily. This one grows in full sunlight and it absorbs light perfectly. It can grow about a height of 7-14 feet tall and can spread 7 feet long.
---
Will plumbago bloom in the shade?
Yes they do bloom in the shade and can grow without any issue in summers , In winter colder climate they may die and regrow back in start of the spring. Make sure plumbago gets 3-5 hours of sunlight in partial shade.
---
Conclusion
This plant is deer resistant and much more tolerable to many things.  It can protect your other plant from deers invasion,. This grows very easily, care is minimal , no issue on sunlight and soil.
Also See:
Bladderwort(Utricularia) – Uses, Life Cycle,Habitat, Adaptations
Ponytail palm Care – Propagation, Problems, brown tips , Pruning
Is honeysuckle poisonous to dogs? – Varieties, Seeds, Eating Possible?
Spider Plants Care – Propagation, Pruning [Beginner to Advanced Guide]