Red hot poker plant are very unique and exotic plants that come from nature and if you are looking for a plant for your garden that will put four moons on your garden. Stop and learn about this amazing plant which is specially for those who are new in gardening life, it is very easy to grow, and has a long life.
They have the torch like shape and sometimes they also look like corn. Its thin stick-like shape is liked by many birds including humming birds. The flower color is very bright and exotic which gives your garden a natural colorful feel. It is one of the amazing torch Lily plants that looks beautiful and is long lived.
Red hot poker plant(Kniphofia) has more than 69 species. It is also a nectar-rich plant that can attract moths and butterflies from far away. It is a very strong plant that is why it can handle most natural conditions.
You will see this plant show cheerful color the whole summer. Some people call it torch Lily as it looks like a burning torch in the blooming season with its yellow flowers.
Now lets see more information about this plant.
As an Amazon Associate we earn from qualifying purchases.
Background Information
Red hot poker plant are native to South Africa and their scientific or biological name is Kniphofia. This plant has many names including torch lily, tritoma,  poker plant and knofflers.
It belongs to the Asphodelaceae family , this family is new which is separated from the large lily family. They can grow about 1.5 meter tall which is approx 5 feet.
This evergreen Red hot poker plant(Kniphofia) has narrow, green grassy leaves that grow about 11-100 cm.
The Foliage color can be orange , red, pale yellow or often times it shows 2 colors. The flower blooms in summer between March and November. They are easy to grow and spread about 3 feet.
They need low to moderate watering and these evergreen can be easily grown in Full to partial sunlight.
The Hardiness zone for red hot poker plants is 5b-9.
---
Here is the Link to buy Red hot poker plant :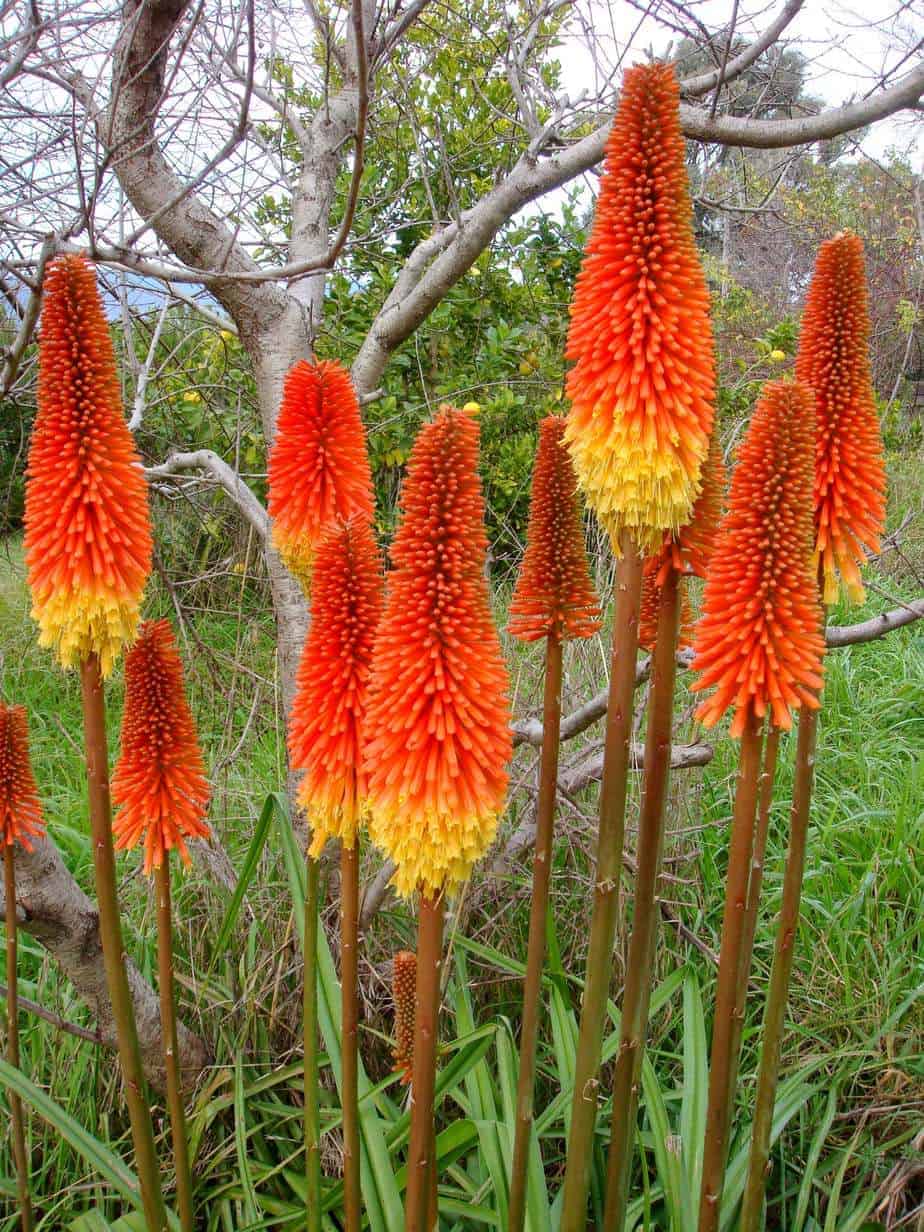 Red hot poker plant
---
Red Hot Poker Plant Care
Red hot poker plant care indoor and outdoor requires well draining & fertile soil, Sufficed watering, Good Weather and much more. Other reasons like not to overwater, underwater and protect it from the winter damage is all they need. It looks very similar to the aloe plant flower. It needs protection for the winter season, for that you can make a layer of 2 to 3 inches of mulch, which will cover its above surface of soil.
If you feel that some leaves have gone bad, then there should be no problem in removing them.
You can trim about 1/2 inch  to 2 inch from the flower itself and it will become a new plant in the next spring season. Removal of dead unwanted stems can be useful.
By the way, this plant can tolerate dried and hot summer days , but it needs your care by giving regular water, it keeps the growth consistent.
Gardner should take care not to let this plant run short of water during the summer and drought.
These plants can be grown in sunny locations means having areas where it gets direct sunlight and also with well drained soil.
Here are the tips on how to Grow Red Hot Poker Plant :
Season
You should plant this plant in early spring or also in fall season. These 2 seasons are best for their overall growth.
Staking
Stalking is a technique in which you apply a thin wood to support the plant and tie it to the plant.
Keep in mind that this wood is fixed so that if there is a storm, then it can withstand it. Care this plant well.
Here staking is used to keep the plant straight, the position of the plant remains set.
Soil
You can make any soil for your Red hot poker plant, but it would be good to have your soil well drained and before putting the plant in the soil, add some good fertilizer so that it can grow more well, you can also use compost for that.
Below in this article you will get the list of top 5 fertilizers, do check that as well.
Water
If you care for the Red hot poker plant by watering it well, then its flower will start getting damaged and its soil will start to wither(dry).
By the way, here in the summer season, it can remain without water for a long time, but due to lack of water, it can also have a bad effect on its growth which will make its color fade away , if water is not given.
On very hot Summer days it needs your attention as the soil can be dried out very quickly.
You should give this plant water every week and keep in mind that your plant's soil has to be dried 3-4 inch below the surface of the soil, then you can water it but don't over watering, then it will affect its growth for long term.
LM tips : Sprinkle water in your plant during hot days.
Mulching
Always remember that it is important to have 2 to 3 layers of mulch above the soil.
The best material that you can use Bulk Straws, Sawdust or best one is to be shredded bark which is used in many other plants as mulch.
It can make your Red hot poker plant soil moist for some days and this mulch is again with time mixed with soil and contributes to boosting its health. It can make soil more fertile with time.
Lotusmagus.com Note : Better Soil health means better plant health.
Fertilizer
Fertilizer is necessary for the plant when it becomes 3-5 month older.
For further growth it requires a high fertilizer so that it can get good minerals which can increase the overall growth of the plant. Mix the fertilizer up to 2 inches with the soil and also some at roots.
You can use organic compost for the fertilizer, which works best on most of the plants.
Space
These Red hot poker plant quite take a lot of space in just 2-3 years it spreads about 3–5 feet and also their height can be 3-5 feet high.
So you should plant this in a garden area where it can take up to 3-5 inch space. It will grow bigger and more beautiful every passing year.
Pruning
Red hot poker plant care needs pruning when the flower blooms starts to fade.
What you need is a scissor that you will use to prune the faded flowers and snip the stem below 1/2 inch from the flower itself.
It is an easy process but make sure not to prune more than that. It is an important step & needed process so that the plant can grow again.
This plant will grow again in early springs so don't worry about trimming your plant flowers.
Also red :
 Best Time to Grow Autumn Blaze Maple Tree | Official Tree Caring Guide
 Red Twig Dogwood – Beautiful Red Stem I Have Never seen in Any plant
Red Hot Poker Plant(Kniphofia) Varieties
Here are the red hot poker plant varieties :
1 . Royal Standard
They can grow about 5 foot tall.
2 . Little Maid
They can grow about 1-2 foot tall.
Above 2 are common ones and Flowering color is red and as it turns old it gets yellowish.
3 . Springtime
It has yellowish and coral flowers.
4 . Goldmine
It has ember colored flower.
5 . Tawny King
It has apricot and cream color flower.
6 . Bees Lemon
It has green and yellow flowers.
Best Location to grow Red hot poker plant
To answer on best location to grow red hot poker plant is your garden and lawn where it gets full sunlight , don't worry about sunlight it can bear the day sunlight of 12 pm to 4 pm which is hard enough to burn plant what you need to do is take care of it daily as it needs water regularly.
Here is the Link to buy Red hot poker plant :
---
Red hot poker plant Propagation
You can propagate this plant(Kniphofia) in 2 ways, that is by buying its seeds or by cutting its stem.
If you brought the seeds , then first you have to place it on the surface of the potting soil and put the seed 1/3 inch below and cover the soil surface , water it and make sure to give regular water to it and make it moist.
It needs to be moist for some days until it starts its root system.
To tell you on how to propagate red hot poker plant is from its stem, divide one of the plants whose leaves are matured and cut those from its base. Plant it on the ground 1-3 inch until it stands straight or give it some helping stick , tie it up using thread and do give them water.
It will grow beautifully when roots start growing again & make sure to care for them very well.
Also see : Polka Dot Plant – Amazing Polka's in the Plant leaves
Pest and diseases?
These Red hot poker plant(Kniphofia) do not contain disease, but they should be sieved from snails and slugs which are hidden in the leaves.
This happens when you over water your plant and these snails and slugs love watered soils.
Therefore, do not add too much water and keep this plant in a good place where it gets proper sunlight so that soil can be dried quickly.
Due to too much water, the root is also affected and fungal disease can develop.

Copright Notice: The content is first published in lotusmagus.com website, if you are seeing this article in other website then it has been copied fully. Lotusmagus is a website about plants and flowers by Amelia Clark. Copyright Marked

Another important thing is that you should trim the dead leaves or flowers of this plant, so your plant will grow well.
How do you take care of a red hot poker plant? These plants need your care when they want water in hot days and warmer seasons. Watering is important and also make sure it stays moist, use leaf mold or processed conifer bark and put this mulch in the soil surface covering the root area. Also Red poker plants need pruning in every spring season so do that by trimming the dead leaves it will grow again so don't worry.
Top 3 Fertilizer for Red Hot Poker plant
These are the best 3 fertilizers and are organically made.
Conclusion
These plants can give your garden a more beautiful look and they are easy to grow , even birds are attracted to it. Its flowers with yellow , red , orange , cream color spikes in seasons can give your garden a better unique display. It is the choice you have to make for your garden. I would definitely have one.
Sometimes beauty comes with uniqueness
Also Read : 
Cast Iron Plant – How to Grow, Care, Types, Pruning, Propagation[Guide]
Weeping Cherry Tree – A Beautiful blossom Of Cherry flowers
Purple Passion Plant – Care, Grow , Propagate, Benefits, Seeds Sale