Honeysuckle is a shrub plant which is very recognizable and has a lovely smell that's why even it attacks many nearby butterflies. It is deciduous because you will find it dropping leaves but even though it's also considered in the evergreen category. Many Dog owners are curious to know whether these honeysuckle poisonous to dogs and some ask about it they are really invasive in nature so Read on.
Is honeysuckle poisonous to dogs? According to USDA, A Particular Honeysuckle named Lonicera involucrata can be mildly poisonous to humans, its berries are used as an edible food source for bears, mammals and even some variety of birds. If it is poisonous to humans than this might affect your dog. If that happens kindly call for pet care center for immediate help.
As per IN.GOV, honeysuckle are invasive because once they start to grow it will not stop until the whole forest land is covered by these shrub leaves. It means no food source left for birds and animals to eat. They even have chemicals which will largely affect the soil, that means all growing plants in the area where honeysuckles grow get poisoned.
These plants greatly tolerate hot sun and grow in any landscapes. It has sweet nectar and leaves on this shrub grow opposite of each other over the stem. The White Variety is mostly popular and it is the one that draws the attention of people , this also has colors like yellow and deep orange.
Honeysuckles has almost 170-180 species and is mostly found and native to Eurasia and North America and do you know one of its varieties called Lonicera japonica is considered as invasive in many developed countries like North America, South America , Australia and Europe.
It comes from the family called Caprifoliaceae which is of climbers and ornamental shrubs. These are also grown in the Southern Asia and North African Region & the majority of them are available and cultivated in china. These have very Stunning looking flower and can be grown in most garden soil. Its flower is useful for butterflies and hummingbirds for nectar.
Honeysuckle is bitter in taste and used as dye in some regions. There are many medicinal uses for this plant which includes body cleansing, wounds, burns,sore eyes, dandruff,infectious,arthritis , coughs, pain of feet etc.
It is termed as Invasive in Northern and Central parts of INDIANA. The List also includes South Tennessee, Central Great plains, North Caroline and Southern New England. These are also moved below the soil and can even dominate the whole forest land.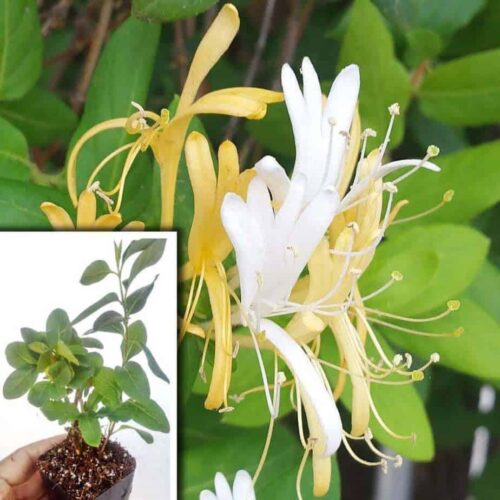 Buy Now
Best Honeysuckle Varieties
Lonicera nitida 'Baggesen's Gold'
is one of the top when it comes to beauty and this one is also popular because of its versatility and adaptability. Its leaves are in golden green color forming straight branches and if you add it to your garden, this will add more attractiveness.
The color of its flower bloom is white and this shrub grows about 1-2 m tall.
Lonicera periclymenum 'Graham Thomas'
is also a good fragrance and it also attracts hummingbirds with its white flower that turns yellow in the month of july to sept. This will grow red color berries at the end of the summer.This shrub has a height of 5 m
and it is a Deciduous climber honeysuckle.
Lonicera x tellmanniana
is a one of the favorites of those who like colorful flowers like orange and yellow. The flower bloom will be shown in the month of may till July. This one is also a Deciduous Climber and having a height of 4-5 m ,
I have talked to many people. This one has very powerful fragrance in a good way I mean.
Lonicera 'Mandarin'
is a flowering shrub that shows orange flowers in the months of July to September. This variety has no fragrance and if you are allergic to flower scent then you should go with this.
Lonicera fragrantissima
is one of the honeysuckle popular to be grown in the winter season , and this deciduous meaning it will drop leaves often the whole year. It is about 1-2 m tall in height and it grows and shows blooms
in January to march with beautiful white color flowers.
Lonicera periclymenum 'Serotina'
is a flowering shrub which blooms in the month of July to September , most honeysuckle bloom this time and it has white flowers , this will cover your wall or garden faster. Most people grow this with roses as this one suits with red flowering plants.
Honeysuckle seeds
where to buy seeds of honeysuckle shrub , For the users of lotus magus we are giving links to buy this beautiful shrub plant, here are the 2 links where you can easily purchase it and it will be delivered to your home.
Note: It will make me earn small commission if you purchase any things from above link and it will not cost anything for you , its just we can make a living by suggesting you guys what we can & earn small commission out of it. 🙂
Honeysuckles smell
is kind of fruity or sweet , But basically it depends on the variety of honeysuckles some have a pungent smell and some doesn't even have any fragrance, some even smell like lemons , you will notice the thick sweat smell in most.
Honeysuckle meaning
is denoted as happiness or Pureness. Some say it gives a feeling of love and sweetness just because it has a sweet fragrance. Many describe it as good luck or something that protects you from bad energy. It also symbolizes kindness or gentleness in love.
Honeysuckle edible
in some variety like lonicera caerulea as USDA government site claims it as edible but yes it is mildly toxic. It has berries of red , black, blue color which are round and even as seeds .
Honeysuckle eating
is done using by removing the base and then take the thread like string out , you will see some drop coming , that is what sweet honeysuckle nectar. Here below is the video how to take it out.
---
If you want I should write Its Full growing and caring method please give me a email. I will write experience .
Also See:
Bladderwort(Utricularia) – Uses, Life Cycle,Habitat, Adaptations
Ponytail palm Care – Propagation, Problems, brown tips , Pruning
Is Plumbago Poisonous to Humans – (With Full Details)
Spider Plants Care – Propagation, Pruning [Beginner to Advanced Guide]