The Custom of using poppies as a remembrance for the end of World War I originated from the poem "In Flanders Fields" written by Canadian Major John McCrae. During the second fight of Ypres in 1915, people saw poppies growing among the graves of soldiers who had died. This made them want to write this song. After World War I finished in 1918, an American professor named Moina Michael made the red silk poppy a famous way to remember the war.
Canadian Lieutenant Alexis Helmer perished from an approaching shell in the early phases of the conflict, in May 1915, during the second battle of Ypres. Major John McCrae, a personal friend of Helmer's and the unit's medical officer, presided over the burial ceremony. McCrae took solace in the tenacity of nature while in this gloomy environment, which included being close to the graves of slain troops. He wrote a poem with three stanzas called "In Flanders Fields." This famous poem's first line is as follows:
"In Flanders fields the poppies blow, Between the crosses, row on row, That mark our place; and in the sky The larks, still bravely singing, fly Scarce heard amid the guns below."
One of the most lasting and often cited works of literature from World War I is this poem. It permanently etched the war into the communal psyche thanks to its striking vision and moving meditation on the poppies sprouting among the dead.
The European field poppy, or Papaver rhoeas as it is technically named, came to represent the suffering and loss experienced during the Great War, especially in relation to the Western Front.
Table of Contents
As an Amazon Associate we earn from qualifying purchases.
When McCrae's poem was discovered in 1918, the year the war ended, an American scholar by the name of Moina Michael was profoundly struck by its message. She started wearing a red silk poppy as a sign of remembering after being moved by the poem's exhortation to do so. Because of her commitment to this cause, she promoted the red poppy at a number of occasions. At one of these events, she is renowned for saying in response to McCrae's call to action, "And now the Torch and Poppy red, we wear in honor of our dead."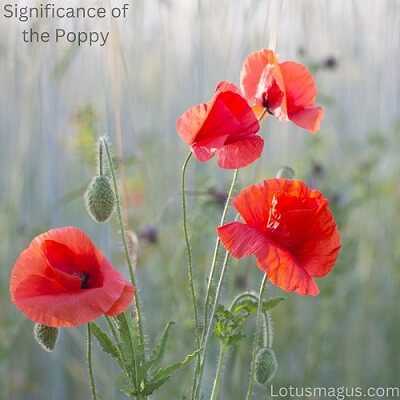 Poppies for remembrance day
The poppy is a symbol of remembrance, primarily associated with World War I and Armistice Day (11 November). On April 25, which is Anzac Day, it is also worn to remember New Zealand soldiers who died in war. In the United States, National Poppy Day is on the Friday before Memorial Day. People wear poppies to show their support for soldiers and to remember what they gave up for their countries.
The poppy has a special significance in New Zealand since it is frequently worn on April 25, Anzac Day. The purpose of this day is to pay tribute to the New Zealand troops who heroically lost their lives throughout numerous battles. In this situation, the red poppy serves as a moving reminder of their bravery and the supreme sacrifice they made on behalf of their country.
On May 25th, the nation as a whole observes National Poppy Day, a day that has great importance for veterans and active military personnel. The American Legion Family successfully pushed Congress to designate the Friday before Memorial Day as National Poppy Day, which helped establish the holiday in the United States. By highlighting the significance of commemorating the sacrifices and devotion of those who served in the military services, this project highlights the poppy's global role in paying respect to them.
Beyond its colorful exterior, the poppy is a symbol that cuts beyond national boundaries and linguistic barriers. It acts as a concrete sign of solidarity for veterans, honoring their unwavering will to defend their nations. It serves as a reminder that, as Colonel John McCrae famously wrote in his poem "In Flanders Fields" from World War I, "they shall not rest" even as poppies bloom in the fields.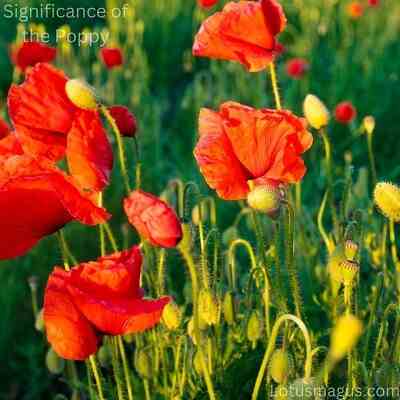 Significance of poppies on memorial day
The red poppy, also known as Coquelicot, gained significance on Memorial Day as a symbol of the blood shed during battle. This meaning comes from the poem "In Flanders Fields," which Lieutenant Colonel John McCrae, M.D., wrote while he was on the front lines of the war.
The French slang word "Coquelicot" itself was originally used to refer to the wild corn poppy, Papaver rhoeas. This flower stands out for its vivid red color that has an orange undertone. The hue inspired by the dazzling petals of this flower became connected with this name through time, which eventually made its way into the English language.
Lieutenant Colonel John McCrae's composition "In Flanders Fields," which graphically portrayed the red poppies sprouting up among the graves of dead soldiers, also served as a moving homage to those who had sacrificed their lives in war. Both during and after the First World War, people connected with the poem's imagery and moving lyrics, and it became a lasting symbol of remembering.
With its association to this poem, the red poppy has subsequently come to represent Memorial Day. It acts as a moving reminder of the sacrifices made by military members who gave their lives in order to defend their countries. The scarlet poppy petals serve as a constant reminder of the violence and ultimate sacrifice made by these soldiers.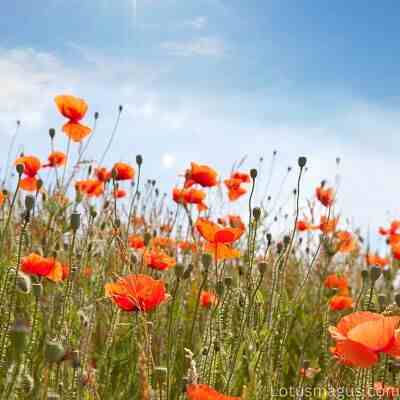 Significance of poppies in flanders fields
The poppy holds great significance as a symbol of Remembrance and hope, particularly in honoring the memory of those who lost their lives in conflicts. It became linked with dead soldiers during World War I because of the poem "In Flanders Fields." This red poppy is a worldwide sign of peace and remembering those who died in war.
The history of the poppy's significance as a reminder of sacrifice dates back to World War I, a battle that resulted in unimaginable death and suffering. The crimson poppy rose to popularity as a representation of the war dead during this turbulent period. The poem "In Flanders Fields," written by Lieutenant Colonel John McCrae, had a major impact on this symbolism. Red poppies became a physical symbol of the souls of those who died between 1914 and 1918 as a result of the poem's powerful vision of them growing among the graves of dead soldiers.
As it began to symbolize the slaughter on the battlefield, the red poppy's meaning expanded. The red poppy became one of the most well-known emblems of remembering and sacrifice after "In Flanders Fields" played a significant part in solidifying this relationship.
The red poppy, in particular the Flanders Field poppy (Papaver rhoeas), has transcended its historical significance through time and has come to represent both the communal aspiration for a world free of war and the lives lost in battle. People and communities throughout the world have a particular place in their hearts for this famous flower because it symbolizes their support for all members of the military, including veterans, active duty personnel, and their families.
Additionally, the meaning of the poppies goes beyond rememberance. Some readings of the words "We shall not sleep, though poppies grow," from "In Flanders Fields," argue that the poppy is also a symbol of perpetual vigilance, reflecting our continued dedication to remember and commemorate the departed.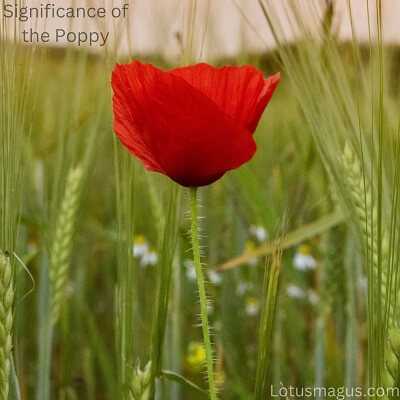 Significance of poppies in england
Wearing a poppy in England is a symbol of support for our Armed Forces, veterans, and their families. Since World War I, it has been a way to remember those who died while serving their country and a sign of hope for a peaceful future.
The tradition of wearing a red poppy dates back to the aftermath of World War I, when these hardy flowers bloomed amid the destruction in the war-torn fields of Flanders. The heartbreaking wartime poem "In Flanders Fields" by Lieutenant Colonel John McCrae skillfully equated the crimson poppy with the carnage and loss of life in warfare. Due to this ongoing relationship, the red poppy has come to represent not just the First World War but all other wars in which British soldiers have been deployed.
The poppy dominates our communal memory on November 11, which is Armistice Day. It is attached to our left shoulders, which represents the act of holding the remembrance of the deceased near to our hearts. This day serves as a sad reminder of the sacrifices made by soldiers and the gravity of war's repercussions.
The poppy serves as a modern emblem in addition to being a historical one. Our dedication to ensure that the sacrifices made by our servicemen and women are never forgotten and our hope for a peaceful future are both represented by its appearance on our clothes.
It's important to remember that, although being largely associated with remembering, the poppy may sometimes be seen as a political symbol, a manifestation of British identity, and a statement of support for the British Army. But its real value resides in its capacity to bring people from all backgrounds together in recognizing the bravery of our armed forces and paying respect to those who sacrificed all for our right to freedom.
The white poppy, which stands for peace, and the purple poppy, worn in remembrance of service animals who also lost their lives in war, are other varieties of the red poppy in addition to it. These variances serve as a reminder of the wider effects of combat and the need of remembering all facets of wartime sacrifice.
[The article/content is first published by Lotusmagus.com website.
Lotusmagus is a website about plants and flowers by Amelia Clark. Copyright Marked]
Significance of poppies on anzac day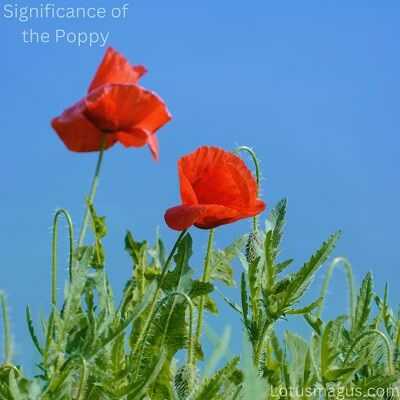 Poppies are a symbol for Anzac Day because they grew on the battlefields of Belgium and France during World War I, where many Australian soldiers lost their lives. The red poppy has become a worldwide sign of remembering people who died in wars and battles.
Australian and New Zealander troops who served in World War I encountered unspeakable difficulties and suffered great casualties. The poppies that grew in the middle of this upheaval seemed to be sending a strong message about remembering. They served as a memorial to those who had lost their lives in defense of their nations, serving as a symbol of the carnage and sacrifices that took place on these battlefields.
[ Copright Notice: The content is first published in lotusmagus.com website, if you are seeing this article in other website then it has been copied fully. ]
The crimson poppy became known around the world as a reminder of battle as time went on. It crossed international borders and became a symbol of utmost respect and remembrance for all countries' dead warriors. People began wearing red poppies in various nations as a gesture to remember and honor those who had perished in war or were somehow impacted by it.
Being that the poppy is generally associated with Remembrance Day, commemorated on November 11, it is important to note that in Australia, single poppies are not commonly worn on Anzac Day itself. On Anzac Day, though, it's usual to see wreaths with poppies on them as a sad memorial to the dead.
Australia and New Zealand were not the only countries to embrace the red poppy as a memorial emblem. It resonated with people in other nations as well, such as Canada and the UK. The well-known poem "In Flanders Fields" by Canadian Lieutenant-Colonel John McCrae was a major contributor to the red poppy's acceptance as a symbol of remembering.
The poppy became the official emblem of rebirth and hope in the face of disaster by the British Legion in 1921. This choice strengthened the poppy's status as a lasting emblem of remembering, especially in relation to November 11th's Armistice Day.
Wrap Up
I hope you enjoyed my blog about the significance of poppies in ww1. The poppy became a symbol of remembrance in the British Armed Forces after they arrived in France in late 1914 and began planting them in towns and villages as a way to honor their fallen comrades. The poppy has and continues to be a symbol of remembrance, as well as a way to raise money for charity. If you want to know about the different poppy colors read here – poppy flower meaning.