If you are curious whether your wandering Jew plant outdoors grown possible? then before that Tradescantia pallida is the easiest and minimal care plant we have grown in North America and is popular for its Unique Zebra-like stripes. It has pinks flowers and purplish color on foliage. It looks amazing as a hanging plant and it grows throughout the year. With Low maintenance and adaptation to many climatic conditions it is perfect as a houseplant. It is hardy to zone 9 ,10,11 and you can use this as a ground cover also. They love warm areas and can tolerate moderate to high humidity. Its name has another story Why it is called Wandering Jew plant. These plants can thrive in both environments but care is different. Wandering jew plant outdoors growing requires different needs so here we will read about that. Can a Wandering Jew plant be kept outside?
Wandering Jew Plant Outdoors
Wandering jew plant can be kept outdoors only if they are placed in indirect sunlight area. These plants might get hurt outside if the light is too harsh. Indoors they can live in warm temperature but outdoors they have different needs. Wandering Jew plant as a houseplant grows very fast and when a wandering Jew plant grows outdoors it can become invasive and can quickly cover a large portion of your garden or any landscape where you grow them. To control the uneven growth you can prune it so it will solve your problem, It's not a big issue as you will know how much it has grown and you can do it easily. It adds beauty to your garden or if you have a tree then you can use a hanging pot to place your plant as Tree.
Wandering Jew plant likes bright indirect light so it will grow smoothly below the trees & its stems sneak over from container edges and go downward toward earth. Using it as a ground cover is also a good option. You can buy one such plant from a nursery or local market or even if you have existing wandering Jew it can be propagated easily.
Wandering Jew Outdoors grows in good draining soil so make sure you use potting mix with organic matter and perlite for drainage. Taking a Stem Cutting and removing 2 inch below leaves will encourage the roots to develop from those areas. Starting care is needed and after that it will grow with the minimum support. Only watering is enough for them to survive. Let's Read How to Care for a wandering Jew plant, there you will find basic care.
You can even grow tradescantia zebrina outdoors as a ground cover but mostly i have seen it side by side in walk path. It can also grown with other trees for as it looks good and some people even have tried it. They are grown outside in House edges line by line and it looks good & If you have a cat that roam around then read  the below information about its toxicity.
Buy Wandering Jew Plant Here are the links :
Did you know Wandering Jew Plant Spiritual meaning? check today!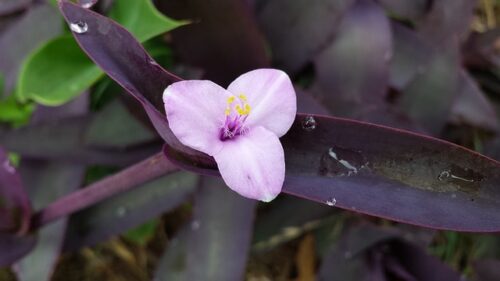 So You have planted The Cutting in Outside , Wandering Jew plant thrives in moist soil and doesn't like being overwatered. They can stay underwater but not overwater as this directly impacts the roots , the heart of the plant. Even These Plants can tolerate drought climates but don't forget to give them sufficient water.
Giving Wandering Jew 50% fertilizer needs can boost its overall growth and health of the plant. It also helps them create strong rooting. When Growing them Outdoors it is best to prune them often , as this leads to bushier growth . You can pinch some of the stems and these can again be used for propagation of wandering Jew plants. Both Soil and Water can be done.
In Winters the freezing temperature is high and plants may not survive outdoors. However, These plants can adjust in cold climates for a short time, then when spring starts they will regain strength and grow back.
If they have provided a warm , hot and minimum humidity place then definitely wandering jew will grow for years and even you can see how fast they grow in this climate.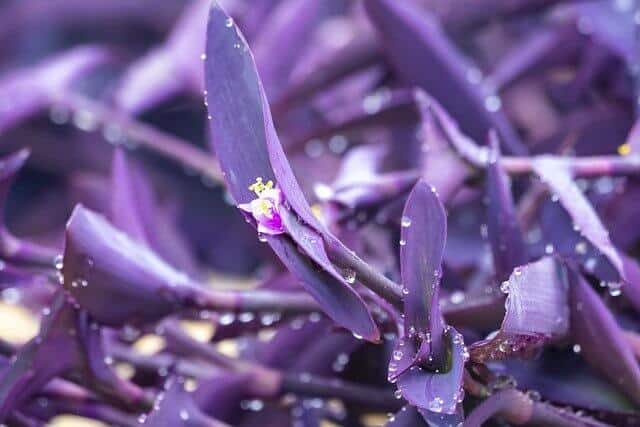 Do you have pets?
So Do Your dog or cat run around in the garden? Did you cat go everywhere or your dog sometimes walk in the garden area or yard or any landscape. Did You live in an area where Deer came often?
If yes! Then Let me tell you why you need to know about this issue! When growing Wandering Jew Outdoors pets like cats or dogs will go someday if you are an owner who gives free play to the pets. Deer might not harm wandering Jew but they may graze on the bushes or on the fence.
According to ASPCA , Tradescantia or inch plant ( Spiderwort) can give skin irritation problems in cats and dogs , this issue is called dermatitis. You may have heard this if you are a long time gardener. I suggest if your yard or landscape have visits of any wildlife animal or your own pet goes by then rethink about planting this wandering jew or you can still grow them if you can find an area which can be out of reach from these animals.
Prevention:
Cats or Dogs generally don't eat plants. There are cases where dogs do eat some kind of plants but there's a reason for that , they don't have food to eat right. So if your pets are getting meals in time they won't eat these plants. Even they are trained to not eat this when they regularly get food.
You can also call the Animal Care center for help. 
Conclusion
These plants are easy grown so Most people don't get issues from these. Those who have pets are extra careful but they just grow them where pests can't reach them means in hanging pots and by pruning the size of this plant is limited so no pet can reach there.  I hope you get the answer on "Wandering Jew Plant Outdoors" and if you like to read more check the below articles.
Snake Plant Benefits in Bedroom – 5 Reasons(Good For Sleep)

Prayer Plant Problems – Yellow Leaves, Brown Tips(How to Fix)