Blue Oat Grass is a grass plant which usually grows by many people in their house landscapes for their attractive appearance. This ornamental(decorative) grass is unique by its color & grown with other beautiful green plants. Its Structure is like a fountain flowing upwards with blue-green clumps which are very long and stiff. Blue oat grass care is easy and you need to follow the below guide to properly do it.
These grasses show this light blue color in the winter season & in summer it shows blue- green color that's why they are called semi evergreen plants.  These are easy to maintain , perfect for landscape plants. The good thing is they don't take over the whole garden with there rhizome like other grass plants do, they have good reputation in maintenance a small space and grow only there lifelong & are not going to self seed.
The oat word in this blue oat grass is used as they show brown color foliage in fall season.
Below are the links to buy Blue oat grass:
Background Information
These plants are most popular species of true grass plant and they are widely used by people to add more design and structure to a landscape. It comes from the Poaceae family and are discovered in grasslands of Southern and Central Europe. The Scientific name of this plant is Helictotrichon sempervirens and the term "sempervirens" means immortal and it holds another meaning in the botany books which is evergreen.
They grows about 125 -140 cm (45-55 inches) tall in height and spread about 40-60 cm(20-24 inches) wide  and still grow in their own place don't spreads to other plants places what other grass plant are famous for. These grass shows the blooms in Start of May till the end of August.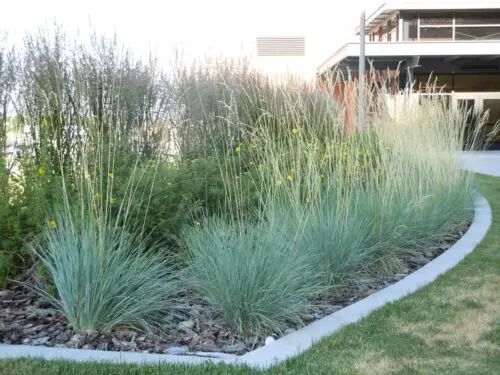 Also Read : String of Turtles Plant – Care,Propagate,Repot,Prune, Sale [Plant Guide]
How to Grow Blue Oat Grass (Helictotrichon sempervirens)
To grow this grass select a good location where it gets proper direct sunlight & make sure to keep the soil moist when these are young child grasses. You can use fertile soil but Many people have grown these in low fertile soil as they can adjust to clay and sandy soil as well.
The plant(Helictotrichon sempervirens) has easy propagation method which I have explained in this article.The best thing about this plant it will not interfere in other plants soil as its rhizomes stick to a location and grows there in its entire life & doesn't spread Like other grass plants.It makes it less invasive plant for house owners and gardeners who have bigger landscapes.
If these grasses produce new seedlings you can remove them to prevent new plant growth else it will take more space.
Also Read : Umbrella Plant – Care , Propagation, Pruning , Types [ Full Guide]
(Helictotrichon sempervirens) Blue Oat Grass Care
This grass is very easy to care for and doesn't require many things from its owner. On how to care blue oat grass is to provide one time fertilizer feeding for a years and a little care like watering once or twice in a week. Pruning can be done to remove the dead or old foliage which makes this grass ugly so better remove them. Also it has been reported in the United States that these grasses were infected by a Rust Fungus that was on leaves of blue oat grass  , but don't worry it was the case in 2015 that disease is rare so take care of your plant.
Here are tips on how to care blue oat grass :
Fertilizer
They usually require less fertilizer or plant food for its growth, as these grass plants grow in low nitrogen soil.
For these grass plants a fertilizer with 10-10-10 equal amounts of potassium, nitrogen , phosphorus are there to fulfill its nutrients requirements.
Repotting
People Usually grow them in garden or house landscapes so they never repotted as they grow in the same location, But you ever grow them in a big container then you just have to refresh its soil by replacing it with new soil only with a low nitrogen fertilizer mix.
Soil
These grass plants grow very well in good drain soil which have peat moss or rotted mature mix with the soil as they give the soil boost to dry the water at a moderate level.
It means water won't dry faster or it dries well after roots get its water requirement. 
Blue Oat Grass Height
According to N.C. Cooperative Extension , This grass grows about a height of 2-3 feet (24 -36 inches) and spreads about 2- 2.6 feet (24- 31 inches) wide.
Light
These grass plants love direct sunlight and they like when they select a good location they get 5-6 hours of proper sunlight.
Also if you grow them in a Shade area or partial shade it can adjust to this indirect light situation but they will not flower well in this low light.  
Temperature
These grass plants can tolerate hot weather conditions and also low to medium humidity. The Hardiness Zone of this plant is from 4 to 8 According to N.C. Cooperative Extension.
Blooms
This can be seen blooming in summer and we can see its blue -white flowers appearing from the side of oat clumps. Its Flower is like a spike shape and it grows about 4 feet high.
Water
These grass plants(Helictotrichon sempervirens) need medium to low water and can easily adjust to less water situations, But that doesn't mean to leave them to their own care.
You should water it when they feel dry or when they get too much sunlight for the day. You can give them water regularly or in 2-3 days.
They are very strong and the grass can adjust to many conditions & are drought resistant.
(
Helictotrichon sempervirens)

Blue Oat Grass Propagation

There are 2 ways you can propagate this grass plant, One is using seeds and other is stem of the oat grass plant. Below I have explained on how to propagate blue oat grass :
Seeds
This Method is Actually simple but it takes time the whole year to see plant growth. You can buy the seeds from your nearby store or can use existing plant.
These plants(Helictotrichon sempervirens) produce flower , and they have feathery seeds that are used tom propagate once the flower is pale or dried.
Generally in fall season take out the seeds and put them in good potting mixture and water it so it can get moisture and use plastic bag and do 1 hole in it so it gets some air circulation.
It will make the plants stay in moisture as the seed needs to be moist in order to grow seedlings faster.
Then after you see any progress like with leaves coming in , Move this plant to a big container and grow them there.
Division
This grass(Helictotrichon sempervirens) can be Propagated by cutting one stem with at least 2 leaves on it.
People who do this for the first time take 2-3 healthy roots with leaves on it and plant them in low fertile soil and good drainage.
This propagation was done because with time this grass becomes dormant and will not grow further and dies but to revive it you need to take out its stems to make a new plant that way it will live many more years.
(
Helictotrichon sempervirens) 

Blue Oat Grass Pruning

On how to prune blue oat grass is to trim the upper layer of leaves by 10-12 inches , According to Royal Horticultural Society. Pruning is done to remove the dead foliage and make your plant grow and bloom in spring. As this plant(Helictotrichon sempervirens) is a grass plant meaning its old leaves will fade and  automatically detach from the main rhizome and decompose on the soil surface, while other new leaves start to take its place. It is best if the plant gets its own dead foliage as soil fertilizer but it will take time either you prune the unhealthy leaves or it will automatically get old and fade.
Also Read : How to Care For String of Hearts – Soil, Propagation, Tuber, Problems
Most Search Questions
Blue Fescue
It is actually a very powerful grass plant which is also the beautiful decorative plant used by many in their home landscapes. It can adjust to many conditions and have very less care requirement. Blue Fescue loves sunlight and it grows beautiful in sunny locations.  It grows USDA zones from 4 to 9 and they blooms very tall tip flower stems. It is evergreen grass and has a deep blue color on its foliage.
Blue oat grass vs Blue fescue
Both plants are very similar to each other but blue fescue is bigger than the blue oat grass. It is about 19-30 inches tall & has very deep blue foliage. Blue fescue has a bright color which it shows in the whole winter season.
Blue oat grass sapphire 
Blue oat grass sapphire is a variety of Helictotrichon sempervirens (blue oat grass) and it has steel blue color on its leaves. They are also termed as perennial grass plants , they are about 18-20 inches tall and spread 2 inches. The blooming time of flowers is in early summer and ends in the last month of summer. The USDA Hardiness zone of this plant is 3-8 and they grow nicely in full sun and hate shade areas.
Blue oat grass seeds
The seeds can be purchased from online stores, As offline it was always out of stock or not available so here is the link where you can buy it and don't worry it's available easily there and won't get out of stock.
Blue oat grass for sale
The sale goes in many stores online , most of the time it is not available in near by stores or may get out of stock so here is the link you can check out where you can buy blue oat grass seeds and also live plants.
Blue oat grass in containers
These grass changes its hardiness and it all depends on how much sun exposure it gets , what type of soil used , climates situation and also in winters there are how it performs.  However, you can use blue oat grass in containers for a year but then you need to replant it for its future growth.
Blue oat grass companion plants
You can Grow these blue oat grass with companion plants like blue junipers , blue mist spirea, dwarf lobelia , blue daze ,blue spruce etc. that will look good as a companion plant in most of landscapes. Knowing Companion plants can be a great knowledge as that way you can decide the how will the landscape will look. 
Also Read : Honeysuckle Problems – Pests, Diseases, No Flowers, Woody?
FAQ's
Is Blue oat grass invasive? 
No, It's not as blue oat grass is considered as a non invasive plant According to data from 2 Different Universities including University of Florida and Washington State University. These plants don't spread their rhizomes like other grasses and don't take other plants' place and don't spoil the soil of other plants so it is considered as non invasive there.
Should Blue oat grass be cut back?
Yes they can be cut back and blue oat grass can grow again so don't worry it will just boost its growth , Also Sometimes it's not required to cut them as they dead leaves are going to fade and new appears in place of old leaves and those dead leaves are decomposed to its soil. It is fertile so the soil eventually grows. You can even pull them with your hand but it is advised to cut them with a sterilize tool so your hand doesn't get hurt.
What can I plant with blue oat grass?
You can plant blue junipers , lavender, blue spruce and Caryopteris, campanula, japanese ladder plant etc. these will look nice and can match with the blue oat grass plant. These are a great fit to the landscape with the blue oat.
Is Blue oat grass deer resistant?
Yes, Blue oat grass is deer resistant According to the resource from University of California, These grass has Moderate water requirements and can grow in less water as they are also drought resistant. These have golden flowers with blade narrow blue leaves.
Is Blue oat grass evergreen?
Yes they are evergreen when they grow in summer but when it comes to winter they turn to brown foliage that's why it is called as semi-evergreen as this beautiful steel blue foliage of blue oat grass will not show the whole year. Also don't make them dry out as they can also turn brown when it gets less water or shortage of water in roots.
Also Read :
Bleeding Heart Vine – Grow , Care, Propagate, Prune [Full Guide]
Sugar Baby Watermelon – What's Special in This Variety [Growing Guide]
Blue Eyed Grass – How to Grow , Care , Where to Plant (Sisyrinchium)
Hawaiian Ti Plant – Where, When to Grow, Care, Prune, Propagate[Tips]