Spanish Lavender Plants for sale : Spanish Lavender is a flowering plant that has its own fragrance and did you know this one has 40 varieties and Spanish is one of them. These can handle dry climates and hot temperatures , even easily grown in warm environments,
USDA zone for Spanish lavender is 8. This one is the best alternative if you didn't like English lavender.
Spanish variety is very similar to other such varieties , It has pink or purple color flowers with silver green leaves. They are best as small shrub plants that can be grown in garden borders and lawns. One difference that you may find is how they flower,
each of the variety have different ways to flower.
Spanish Lavender Plants for Sale :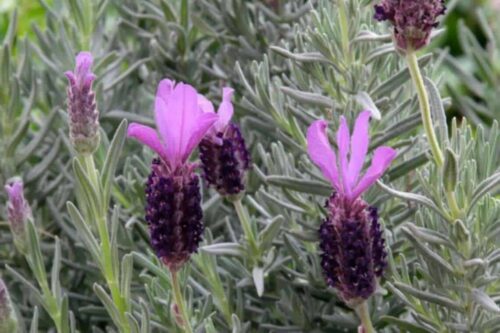 Buy Now –  Spanish Lavender from Amazon
Buy Now –  Spanish Lavender from Etsy
Specifications:
| | |
| --- | --- |
| Family: | Lamiaceae |
| Scientific Name | Lavandula stoechas |
| Other Names | French lavender (UK), Topped lavender(US) |
| USDA Hardiness Zone |  7 -9 ( Zone 8 According to UAEX) |
| Native | Spain, Turkey, Greece, Italy, North Africa, Portugal |
| Soil pH | 6.5 – 7 ( Mostly Neutral) |
| Light | Full Sun |
| Water | Low Water |
| Fertilizer | Liquid / Once a year |
| Height | 18-24 inch |
| Width | 2-3 foot |
| Growing conditions | perennial |
Spanish Lavender Care
Spanish lavender growth and caring are all similar to its variety as this can adjust to many conditions including drought resistance is one of them. Even cold hardy in many zones. These plants consider direct sunlight and they thrive best in full sun.
You can grow them in both containers or in gardens but make sure they get sufficient light. A good soil can add more power to its growth , use of perlite, sand, soil , compost  in equal quantity can be best to make its soil.
As I have told you they are drought tolerant so they can survive with less water so watering can be reduced. 
---
Recommended Products

---
Growing them in warmer climates or dry environments is best and they thrive best in those locations. You can also grow them indoors and they can spread good fragrance inside home but remember place them near a south facing window so it gets light
and that way it doesn't get any pests.
Pruning
Spanish lavender will show blooms in Spring and after they done flowering it requires good pruning so that it can again regrow to this stage. You may find them more attractive and green shrub after trimming ,then after a year you need next pruning.
Spanish Lavender Flower color is purple or pink and its very unique pinkish color. The way these plants grow, they may create a shape like a rabbit ears.
Here are the best Companions for Your Lavender plant:
Rosemary.

Roses.

Wild indigo.

Thyme.

Echinacea.

Baby's breath.

Aster.

Sedum.

Sage.
Conclusion:
If you want a plant that gives pleasant fragrance and is easy to care for , you can survive in low water and there are so many things,. even it has an attractive appearance both indoors and outdoors. Please EMail us if you want us to write full guide this plant , 
I am happy to write about it. Any Problem please mail us.
---
---
Also See:
Jade Plant Care, Propagation, Pruning , Symbolizes, Indoors, Outdoors
Lavender Plant Care, Propagation, Pruning, Indoor Benefits (Sale)
Rose Care – 7 Tips, Propagation, Pruning[Full Method] ,Information
White Desert Rose – Variegated For Sale, Growing Caring Guide