If you are searching for a String of Nickels Toxic to Cats or other pets then before that let me tell you Dischidia nummularia is popular and unique house plant that is very easy to care and if you have a dog or cat you may be curious to know what will happen if you by mistakenly eat a bite of those coin shaped leaves? Below I will answer this question.
String of Nickels Toxic to cats is still a mystery whether it has any affect on pets or if it is poisonous. There is no study to back up its toxicity and that is why we do not claim anything, until there's a study on a government based website or a research institute does it. 
String of nickels is a genus of Apocynaceae family means I should find some good resource so it was said that species of this family have some sort of toxicity in some plants like cascabela, nerium, thevetia but I could find any named regarding our plant so it still unknown to whether its toxic or not.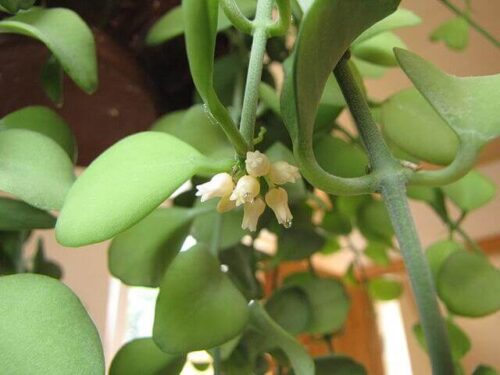 Prevention from your side:
If you have a pet it may be a cat or a dog then you should be careful and make sure it can be used as a hanging plant in a floating basket in the balcony because neither dog nor cat reaches there. Cats can jump but with extra attention you can control the cat. By the way you should train your dog or cat not to jump anywhere or just don't open doors for cats or dogs where your string of nickels are placed.
As an Amazon Associate we earn from qualifying purchases.
If anyone has an ingested pet , Call Pet Care immediately for help.
By the way if you need to read about its care guide here is String of Nickels Guide.
This plant has an easy propagation method so don't get any issues with that. 
Many People who ordered this plant face a problem like it seems droopy or fall when first arrived. But with good care like proper watering and partial light can change its uneven color to bright green and make it more healthy. Just read our guide on its care.
One of the plant named strings of coins are similar to this plant in looks and even both share the same guide on caring tips. Also Remember you are buying this plant make sure you didn't buy its variegated variety, once a saw some people comment like this plant doesn't have that dark green color when i check they have brought other variety so mistake do happens don't worry just take good care and it will show long stem vine trailing downward from the floating basket.
Buy Now – 
[The article/content is first published by Lotusmagus.com website.
Lotusmagus is a website about plants and flowers by Amelia Clark. Copyright Marked]
Buy Variegated String of Nickels
[ Copright Notice: The content is first published in lotusmagus.com website, if you are seeing this article in other website then it has been copied fully. ]
Wrap Up
I hope you get your answer on "String of nickels toxic to cats" . Once there is an update I will update this article on its toxicity. If you want to read more plant articles like this check below.