If you are curious about "flower that represents love" but before that let me tell you a these can represent many things. The concept of symbolizing feelings with flowers became popular during the Victorian Era. People started writing letters and paired them with beautiful petals to elevate their words. However, some flowers have a much broader history than others.
Flower meaning love – Most popular flowers that represent love are Red roses (Valentine's flower of love), Tulips, Agapanthuses, White Rose, Azaleas, Sunflowers, Irises, Daffodils, Orchids, Alstroemeria, Black-eyed Susans, Bergenia, Pink Bluebells, Carnations, Camellias, Balloon Flowers, Hyacinth, Peonies, Pink Asters, Red Chrysanthemum, Alyssums, Bellflowers, Anemones, Ranunculus, Gerbera Daisies, Matthiola Incana, Purple Asters, Lavender etc.
Most Commonly Red roses come in first place in proposing and expressing love. They are the flower of love that is not only beautiful but it gives the other person a feeling of romance and deep love. You can use pink and yellow roses if you just want to be friends with the person you like and admire.
The flowers have been used to symbolize different expressions ever since then. Love is the purest of all feelings. Whether it is a relationship or family, love binds them together. But, what are the flowers symbolizing love?
This article will answer all your questions with a list of flowers meaning love, along with their history.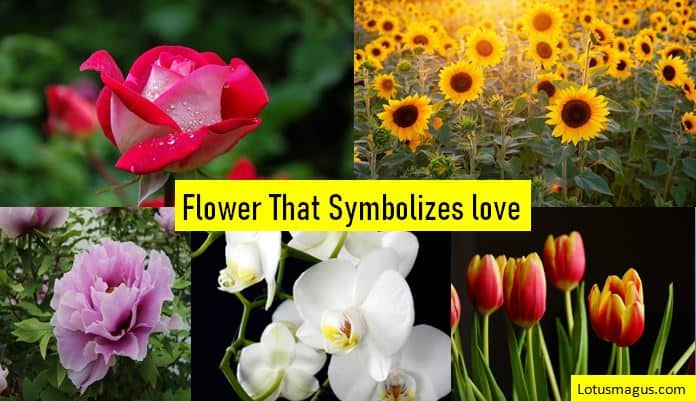 Here is the list of 36 flowers flowers meaning love:
 
List of 36 Flowers that Mean Love
1. Daisy
19. Daffodils
2. Carnation
20. Camellias
3. Gardenias
21. Black-eyed Susans
4. Alstroemeria
22. Hyacinth
5. Lilac
23. Gerbera Daisies
6. Chrysanthemum
24. Bellflowers
7. Lily
25. Matthiola Incana
8. Zinnia
26. White Rose
9. Hydrangea
27. Alstroemeria
10. Violet
28. Sunflowers
11. Peonies
29. Anemones
12. Orchids
30. Agapanthuses
13. Pink Asters
31. Purple Asters
14. Alyssums
32. Azaleas
15. Red Chrysanthemum
33. Lavender
16. Carnations
34. Ranunculus
17. Bergenia
35. Balloon Flowers
18. Irises
36. Pink Bluebells
Below I only explained the top flowers that symbolize love:
Roses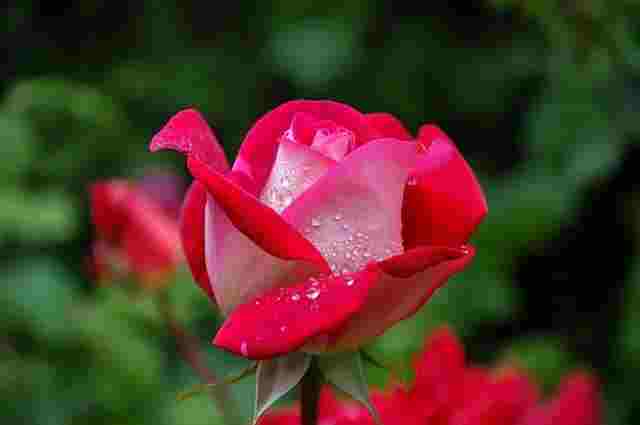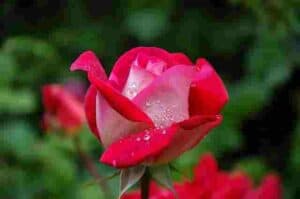 This one's a no-brainer. Rose is the ultimate flower that symbolizes love, among many other feelings. And, that is the best part about the flower. It packs so many expressions in its soft petals.  
Many people use these flowers without knowing the deeper meaning. A rose is presented on many occasions, whether it is someone's wedding, birthday, a new relationship, or even funeral.
But, the real question is why? Well, a rose contains more meaning than just love. It also symbolizes passion and romance.
A rose bouquet at a wedding means the couple's best wishes full of love for the couple's new life. Similarly, you also offer roses on a loved one's birthday. It turns out to be a better gift than other expensive things.
Different Colors of Roses and Their Meanings
Red Rose:

Red is the most common color in roses. It symbolizes love and romance. However, the red color also signifies the passion in love. Thus, these flowers meaning love, are the perfect present on valentine's day.

White Roses:

White Roses are usually offered when a new baby is born. The color stands for purity and innocence. These two expressions perfectly describe a newborn. However, white roses are also common presents at weddings.

Yellow Roses:

Yellow Roses symbolize the purest of all relations, friendship. You can gift them on your friend's birthday, graduation day, friendship day, or any other special day.

Pink Roses:

Pink Roses are also very common and are often confused with the red ones, not with the color, but because of the meaning. It stands for admiration, joy, gratitude, and grace.

Black Rose:

A Black Rose stands for the start of a new beginning. That is why it is presented during funerals, as it symbolizes the dawn of a new journey.
Now that we know about the colors, there's one more important thing to note. The number of roses also signifies your feelings.
One Rose

represents love at first sight.

Two Roses

symbolize a deep and shared love.

Three Roses

symbolize the words "I love you."

Six Roses

symbolize the words "I want to be yours."

Seven Roses

symbolize the words "I'm infatuated with you."

Nine Roses

represent eternal love.

Ten Roses

symbolize the words "You're perfect."
History of Roses
Besides deep meanings, these flowers meaning love, have a vast history. Roses are connected with Greek mythology when Aphrodite gave a rose in honor of her son Eros. The flower's name is a variation in the word Eros' letters arrangement. Eros gave the flower to Harpocrates to conceal the weaknesses of Gods.  
Since it was given to the God of Silence, Harpocrates, Rose stood for secrecy and confidentiality. The term "sub rosa" comes from the Middle ages. During those times, a rose was hung on the ceiling. It meant that everyone under the flower had sworn to secrecy. The same use and meaning date back to the Romans, who used to hang roses on banquet halls.
Rose also stands for wisdom, balance, and clarity in many cultures. 
Here is the most famous rose garden:
PRINCESS GRACE ROSE GARDEN, MONACO
Tulips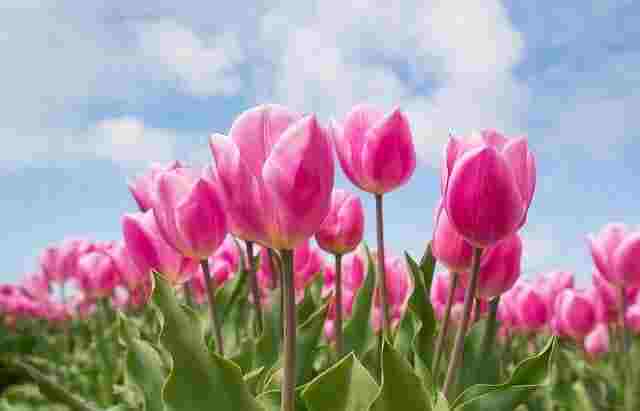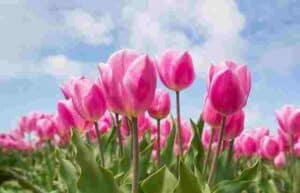 Tulip is the most popular flower that symbolizes love, second to roses. These flowers come in a variety of colors. Each shade represents a different feeling. The fragrance of Tulip is one of the people's favorites.
It blooms during Spring. You may have seen large fields of either yellow or white tulips. These flowers are also linked with holidays, such as Easter and Mother's Day. Generally, Tulips symbolize love.
Tulip belongs to the genus Tulipa, which contains about 100 species of bulbous herbs in the lily family.
Different Colors of Tulips and Their Meanings
Red Tulips:

Red Tulips are the symbolization of true love.

Purple Tulips:

A Purple Tulip signifies riches and royalty and stands for similar themes.

Yellow Tulips:

A Yellow Tulip can have several meanings. Years ago, it was a symbol of hopeless love. Now, it represents sunshine and cheerful thoughts.

White Tulips:

A White Tulip is usually presented for forgiveness. It symbolizes the claim of worthiness.
History of Tulips
Tulips also have a rich history. It was first discovered as a wildflower growing in Central Asia. Turks cultivated this flower as early as 1000 AD. During the 16th Century, Sultan demanded the cultivation of these blooms for his pleasure. The name 'Tulip' also comes from Turkish, which means turban.
The flower remained popular in Turkey. In fact, the early 18th century was named the 'Tulip Era' or 'Age of the Tulips.' It was considered a crime to buy or sell tulips outside the capital. In Turkey, there were various tulip festivals arranged to entertain people.
The Ambassador of Constantinople had seen the beautiful flowers growing in the palace gardens. He sent a few to Leiden, which started the fame of Tulips in the Netherlands.
At the beginning of the 17th century, Tulips were starting to be used as garden decoration. And, soon after, they garnered popularity as a trading product. Holland was a major country that was interested in these flowers.
Today, Tulip fields are very popular in both Holland and Netherland. They are also referred to as 'bulb fields.' You might hear this term for Yellow Tulips.
Here is the most famous tulip garden field:
Keukenhof Tulip Gardens
Sunflower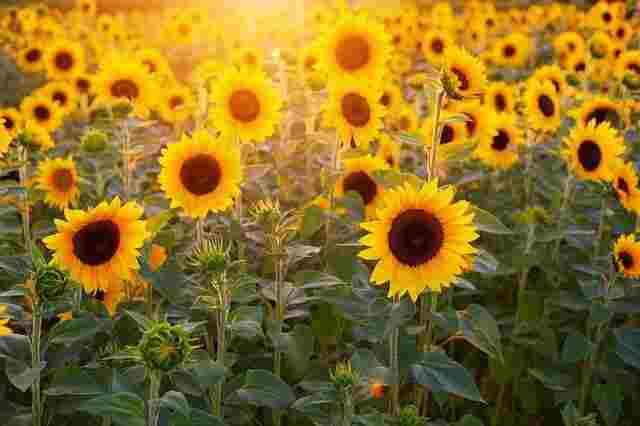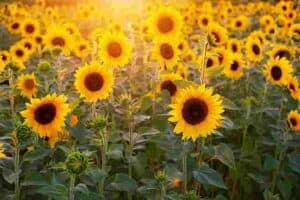 Sunflower stands for love, loyalty, longevity, and affection. These flowers meaning love, are the perfect gift for your special ones or friends. Sunflower gives the message that you want someone for life and appreciate what they have done for you.
Sunflowers look like cheerful faces when they follow the sun. They move throughout the day and are quite easy to obtain from florists. You can get a sunflower seed and grow it with your loved ones. Not only is it a cheerful activity, but when the flower grows, it will have a much deeper connection with you.
Sunflower also attracts wildlife. If you have a garden, these flowers bless other plants with their presence. Their tall shiny yellow body makes them a sight that everyone stops to stare at.
Different Types of Sunflowers
There are different types of Sunflowers you should know about:
– Tall Sunflowers

– Dwarf Sunflowers

– Colored Sunflowers
Tall sunflowers are the most common ones found in gardens. They are up to 16 feet tall and have vibrant petals. Their large brown stalks connect to golden petals. On the other hand, Dwarf Sunflowers grow up to only three feet. They are the hybridized mix of sunflower species and require less maintenance.
Lastly, Colored Sunflowers are people's favorites, thanks to their beautiful colors. Due to hybridization, these flowers adopt splashes of an assortment of colors. These range from creamy custard to deep red wine. Terracotta is the most common colored sunflower with brown clay petals.
No matter which type you pick, the core meaning of sunflowers remains the same. All its types stand for love, purity, and affection.
History of Sunflower
Sunflower originated from North America. It was first grown as a crop over 4,500 years ago. Native Americans cultivated the flower from its original bushy and multi-headed form. They wanted to achieve a single-stemmed plant with a large flower.
However, sunflower oil increased the flower's value by a mile. It continued as a stable within North America for 4,000 years until Europeans discovered it. Spanish Sailors gathered a large number of Sunflower seeds and brought them back to Europe.
However, Europeans only used the flower for its food and oil-bearing properties. However, its growth developed in the 1700s and soon reached all across the globe till the 19th century.
Then, Sunflower was used commonly for medicinal use. But, its beauty also made it the favorite of many people throughout the world. It soon became a popular flower that symbolizes love.
Most Flower sunflower field :
Forks of the River Wildlife Management Area : https://goo.gl/maps/6ZNVFVnxYHfgvyDs9
Orchid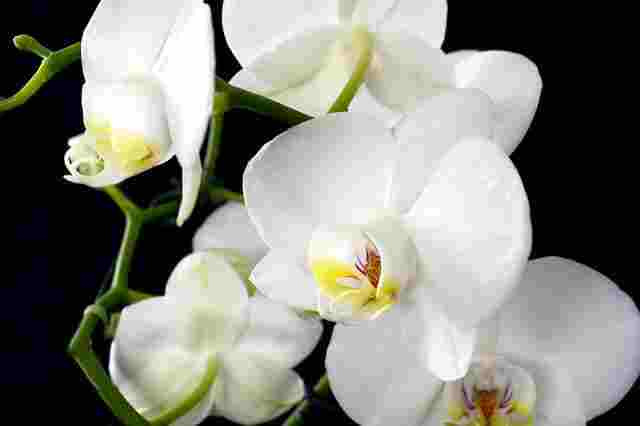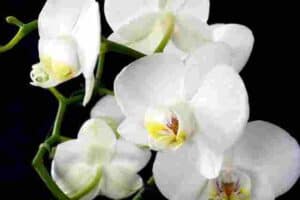 Orchid is the most exotic flower symbolizing love. It is a popular gift that signifies elegance, refinement, and mystery. But, all of these stand for a secretive and one-of-a-kind love. A gift of an Orchid conveys how fortunate you are to have someone in your life.
The name Orchid comes from the Greek word "Paphos." It is the temple's name where Aphrodite, the Goddess of love, was worshiped.
Due to their name, orchids are often associated with fertility and virility. These are often paired with sexuality, thanks to the flower's exotic appearance.
Different Colors of Orchids and Their Meanings
Orchids bloom in various colors, and each shade has a different meaning and symbolization.
White Orchids

represent innocence, purity, and elegance.

Pink Orchids

stand for femininity and grace.

Yellow Orchids

represent friendship and new beginnings.

Purple Orchids

symbolize admiration, respect, and royalty.

Orange Orchids

stand for boldness, pride, and enthusiasm.
There are also different types of Orchids. The most popular are moth and waterfall orchids.
History of Orchid
As mentioned earlier, Orchids have a connection with Ancient Greece. In old times, it was believed that parents could choose the sex of their child by eating orchid tubers.
Aztecs used to mix orchids with chocolate to create an elixir. They believed that it could bring power and strength.
During the Victorian era, orchids were found in the tropics. They were rare and very valuable. People used to collect these flowers as a sign of luxury. However, they were also given as gifts to represent rare love.
During old times in China, orchids were considered a symbol of integrity and friendship.
By connecting all the dots from history, it is safe to conclude that Orchids are the ultimate flower that represents love.
Peony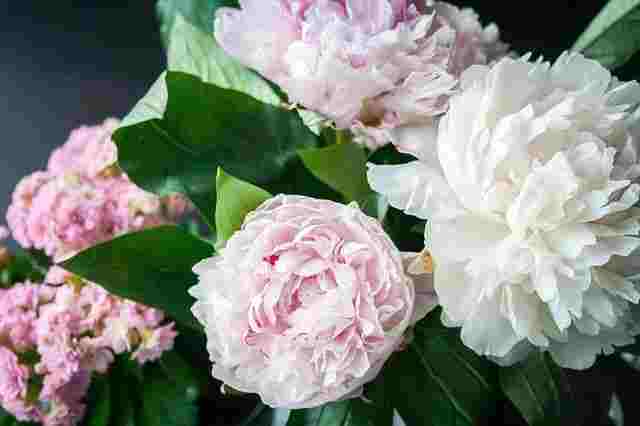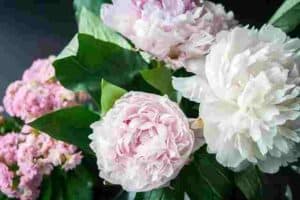 Peony is another flower symbolizing love. It is very common in bridal bouquets. However, Peony has a rich significance in Chinese culture. It is the country's national emblem. Thus, you will see Peony in various Chinese rituals and celebrations, such as the Chinese New Year.
Even the word 'Peony' comes from Chinese, meaning 'most lovely.' It is the flower that conveys your love for the significant others without speaking in words.
Peony is also used as a present to tell someone how gorgeous and important they are in your life.
Different Colors of Peony and Their Meanings
You will find peonies in a wide range of colors. However, the most common are these three:
White Peonies

represent romanticism. Thus, they are the representation of love and romance. A common use of white peonies is in weddings and other celebratory occasions.

Pink Peonies

also symbolize the same romance and love. However, they have a deeper meaning too. These flowers meaning love, are also considered a sign of good luck and prosperity.

Orange Peonies

are very common for house decorations. They are often kept in bouquets to symbolize luxury, royalty, and admiration.
History of Peony
Peonies originate and are still quite popular in China. These flowers date back to 1000 BC in gardens of China. By the 8th century, Japan was also a major producer of peonies. At the start, these flowers were solely used to create medicines.
Soon after their popularity across different countries, people realized the flower's beauty. Thus, it started being used as gifts to show love and admiration for others.
Honorable Mentions
There are many other flowers meaning love. Although they might not be as popular as the five discussed above, they are still worth mentioning.
Lily
Zinnia
Hydrangea
Violet
FAQ's
What flowers mean love forever?
Flowers that means love forever are lilies, purple tulips, daisies, red roses and sunflowers. when you express emotions, deep feelings then a combination of red roses, lilies, tulips can work and also all red flowers mean love forever. 
I would definitely help you to pick the one, but why not express your feeling like that, take the red one and say "It's the flower that tells you about how deep and passionate my love for you is". Then take the yellow flower and say " This one says that I will forever make your happy just like these yellow looks like". The 3rd one would be the Blue ones which you say is " It means to tell us that we will be free to make decisions in life and we do not limit ourselves and will love till eternity just like the open blue sky is limitless.
What flower means unconditional love?
Flowers that mean unconditional love are tulips, iris, lilac, anemone, carnation and red roses. Most popular flower tulip represent the love that has no restrictions, no boundaries, it's all-out unconditional. Tulip blossoms makes it ahead from roses and carnation, if you want to take a color it could be red tulip which is for passionate love and deep feelings.
Flowers like Carnation have long stems and they also come with different colors, the same as roses, you can give red ones to your lover or partner because that is the one that shows limitless, pure and unconditional love.
Which flower is a symbol of first love?
A single rose & Purple lilacs are 2 flowers that symbolize first love. One rose is used to express a feeling or having fallen in love at first sight, while the same purple lilacs represents the beginning of a love story or day 1. These 2 flowers, especially the red roses and purple lilacs, are best for couples and real life partners to give as presents.
There are many other flowers like carnations, camellias, tulips, and spray roses that all have the same meaning about love and romance. You can also take tulips as a gift to your partner or love. 
Wrap Up
This detailed article has covered all the popular "flower that represents love". We also discussed their history to emphasize their symbolism throughout time.
This list will make it easier for you to pick your favorite flower that symbolizes love.
Also Read: