If you are searching for the meaning and symbolism of purple lotus flower, keep on reading. The lotus flower is a special plant that has been there in a lot of regions, cultures(For example Egypt) and has spiritual beliefs on it. Purple lotus flower is also popular among the countries and it is sacred in Buddhism as well. It is also said to be linked with sunlight and sunset, which I will explain in this article below.
Purple lotus belongs to Nelumbonaceae & one of the unique things that we can find in lotus is that it contains as many as 25 petals in a single flower. White ones are commonly used but purple are also the second most popular plant.
Purple Lotus Flower Meaning
Purple lotus flower meaning symbolize purity, strength beliefs, spiritual path, enlightenment from the heart and soul. Purple lotus flowers meanings are genuinely attached to the Teachings of Buddhism. It is often said that lotus flowers emerge from dirty water and still bloom clean and fresh. From Buddhism point of view, it means the way it rises above even though it has darkness, despair, hardships and still moving towards the light, hope and prosperity which makes it more beautiful and importance in Buddhism.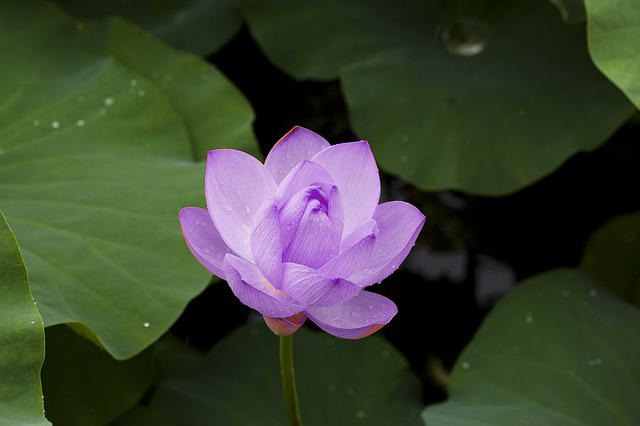 Purple Lotus Flowers Symbolism
A Lotus flower symbolizes purity, innocence, righteousness and spiritual enlightenment.
The purple lotus flower has a rare & unique presence because it represents "The Noble Eightfold Path " of Buddhism which consist of eight practices to achieve samsara(the cycle of rebirth. These all paths would prevent your body and mind from becoming corrupt in any manner. It is said to be a mystic lotus because it has eight petals which bloom above the muddy water. Whenever the sunlight reaches its petals, it opens up and it flowers for 3 days with charming purple blooms. The petals close at sunset and again come back the next morning whenever the sunshine touches the flowers.
The purple lotus is a unique color that gives mysterious vibes. This purplish pigment changes in sunlight, moonlight and whenever the environment's warmth changes. This makes the flower more charming and exotic in nature.
In Buddhism, those eight practices were done to make sure we don't make the wrong decision or path in life. It includes right mindfulness, right view, right effort, right speech, right samadhi, right conduct, right resolve and right livelihood.
Purple lotus flower spiritual meaning
Purple lotus flower spiritual meaning explains in Buddhism that a person should overcome life's challenges to reach a greater understanding, quality of life. Spiritually a lotus often means revival and rebirth while the flower also used for meditation to focus on mind and soul.
Purple Lotus Flower Meaning Buddhism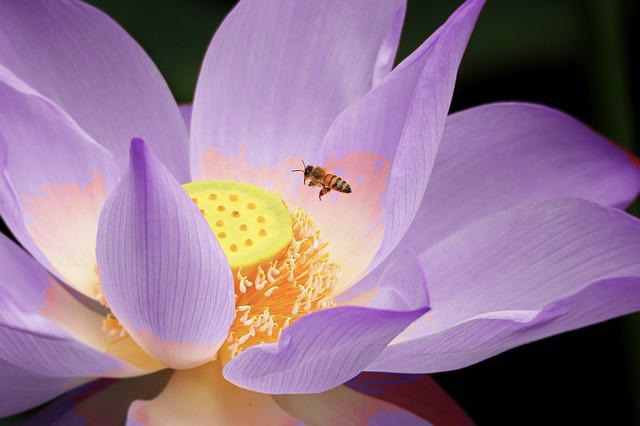 Someone who doesn't belong to Buddhism may not know about the mantra "Om Mani Padme Hum" which means jewel in the heart of lotus. The mantra comes from its structure and color of its stamens.
When the purple lotus opens its petals a golden-yellow center has multiple shining seeds. It's actually a part of jewels. The petals are in purple color while the stamens have a lot of spikes of vertical seeds in golden pigmentation.  The Inside of the purple lotus symbolizes balance between a person's beliefs and his emotions. Both are somehow connected that is why it is a peaceful coexistence.
Purple lotus flower tattoo
A tattoo of purple lotus flower is a symbol of ideation,  cleverness, capital, sagacity. Lotus in Buddhism shows the eightfold path and whichever purple lotus found to have eight petals has divine meaning. It's often said to teach Buddhist ways of life where the ultimate goal is to prevent samsara. And by following the good path and avoiding negativity and making your soul and heart pure. Do not make your mind corrupt in this world of materialism.
Pink And Purple Lotus flower Flower meaning
Pink and purple have similar appearances but the meaning of both differ from each other. Pink lotus symbolizes enlightenment to the spiritual path while the purple means compassion, wealth, harmony and creativity. 
The Pink and purple lotus flower has unique petals with bright stamens that makes it more divine. These flowers do have significance in various cultures and regions. Mostly lotus is said to open on sunrise and close its petals on sunset which is its unique property.
The Cultural History Purple Lotus Flower
Lotus flower has made its place in the Buddhism which was founded by Siddhattha Gotama also known as Gautama Buddha. He was the one who taught the path of spiritual enlightenment and avoided samsara (the cycle of rebirth). Lotus flower is known for its cultivation in history due to the properties the plant holds. The flower used in cultural festivals, rituals. Moreover they are used for fragrance and beauty. Purple lotus consists of few medicinal qualities which may give it the first hand in trading as well.
The Purple lotus is one of the beautiful flowers that is found in the Himalayas of Northern Part of India, Which is now Nepal Region. It is known for its Buddhist associations and it's rare to see purple lotus being grown there that makes it more religious to people.
The area is protected where the purple lotus has been seen due to its importance in Buddhist history, beliefs and teachings that have existed from 3000 years. People don't go there for the desire to get the flower but to enjoy the beauty and its symbolism.

The Purple Lotus flower and Importance in Hinduism
There are different purple lotus flowers present in nature where In India Nelumbo Nucifera Gaertn. It is often said to be something that is connected to eternity, spirituality and beauty. While in Hinduism the white lotus gives more importance and is considered pure and true while the pink color can be seen as divine which only denotes the almighty gods.
Final Thoughts
It is divine, the beauty of the purple lotus flower is beyond explanation. The deep symbolic meaning that comes from all over the world and how it is equipped with most of the culture is truly amazing. The flower not just gives spiritual teaching but also something that motivates the human being to be pure from heart and soul just like the plants is when it rises above the muddy water without any dirt. I hope everyone liked the information I provided. Know more about lotus flower meaning as whole and get to know about the other colors.
Thank you.
Red Lotus Flower Meaning & Symbolism
Black Lotus Flower Meaning – Symbolism, Tattoo, Spiritual Definition
Buddha Holding Lotus Flower Meaning , 4 Types Explained